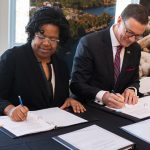 The University of New England and the University of Maine School of Law are partnering to provide a program that enables qualified students to get a bachelor's degree in marine affairs and a law degree (J.D.) in only six years, rather than the typical seven years normally required. UNE President James Herbert, Ph.D., and Danielle Conway, J.D. & LL.M., dean of the University of Maine School of Law, officially entered into the agreement at a signing ceremony held on January 30 at UNE's Arthur P. Girard Marine Science Center in Biddeford.
The UNE Marine Affairs – Maine Law 3+3 Pathways Program provides an opportunity for UNE students majoring in marine affairs to apply to Maine Law in their junior undergraduate year. If accepted, students in the program can use the successful completion of their first year of law school as a substitute for the final year of their B.A. degree in marine affairs. In essence, the first year of law school doubles as the final year of the undergraduate degree, shaving a year off of the overall time required to earn the two degrees.
By eliminating one full academic year, students will save one year's worth of undergraduate tuition and be able to enter their chosen professional field a year earlier. Undergraduates enrolled at UNE will have access to programming and academic advising from Maine Law and will be exposed, through visits from members of the law school to UNE, to the field of law in general as well as to specific subject areas, including non-traditional uses for a J.D. and the need for attorneys in rural practices.
Herbert said that he finds it fitting that UNE and Maine Law have collaborated to offer this expedited track to students interested in a legal profession. "With Maine Law being one of only six law schools in the country that specialize in marine and maritime law, and with UNE as one of only four institutions nationwide to offer a bachelor's degree in marine affairs, this relationship makes perfect sense," he remarked.
"I'm proud to provide students who demonstrate a strong interest in law with an opportunity for substantial savings of both time and tuition. Marine affairs is a fast growing discipline, and law plays an increasingly crucial role in the field. This partnership between UNE and Maine Law will give strong and highly motivated college applicants incentive to come to Maine or stay in Maine for their education and their careers," he added.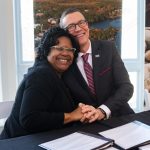 "Maine Law is thrilled to enter into a partnership with the University of New England to offer a 3+3 Baccalaureate/J.D. Pathway to qualified students. The collaboration between one of the most innovative universities in Maine—UNE—and the public and only law school—Maine Law—will deliver immediate opportunities to students interested in Marine Affairs and Compliance, Admiralty Law, Arctic Futures, and Law of the Sea," Dean Danielle Conway said. "Beyond saving students time and money, this collaboration will promote among students, staff, and faculty an awareness about the significance of the rule of law in sustaining all of our communities in Maine, especially those who rely on our Marine resources."
To participate in the UNE Marine Affairs – Maine Law 3+3 Pathways Program, students must meet academic requirements, including the maintenance of a minimum GPA and successful completion of all required courses, and they must provide a letter of support from a faculty member as part of their application. To matriculate at Maine Law, students must meet the school's admissions criteria, gain admittance to the law program, and earn acceptable grades in all law courses during the first academic year.