Faculty Research Blog
Café Creep
By Professor Sarah Schindler

I have been thinking a lot lately about public space and private space. The project I'm currently working on examines privately owned property that functions as public space. This occurs when building owners make a portion of their private property open and accessible to the public, typically in exchange for…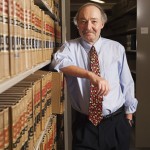 How ACOEL and the White House Make (Some) History
By Visiting Professor Jeffrey Thaler

Back in the early days of the American College of Environmental Lawyers, then-incoming President Brad Martin had asked interested Members to work with Lexis Nexis in developing some treatises on a range of topics. Indeed, years later you can visit this link to see how you too can join the very few who purchase some of these treatises, see a photo of Brad, and the list of ACOEL authors…
Alumni Spotlight
Student Spotlight
Videos
TedXDirigo
v
ideos of Professor Sarah Schindler and Chris Poulos '16.
View More
Upcoming Events
Aug

24,

2016

Maine Law at the Sea Dogs!


On August 24, we are hosting an evening at the…

Aug 24, 2016

:

4:30 pm

-

8:00 pm

Aug

25,

2016

Aug

26,

2016

Sep

14,

2016

Maine Association of Mediator's Training
Sep 14, 2016: 12:00 pm - 1:30 pm
Maine Law in the News
The Honorable Kermit V. Lipez., federal judge of the United States Court of Appeals for the First Circuit, will present the annual Constitution Day Lecture at the University of Maine School of Law on Tuesday, September 20, 2016.
Maine Law and Verrill Dana recently hosted a luncheon to honor the legacy of long-time Verrill Dana attorney Roger Putnam and his commitment to ensuring access to justice for all Mainers. The luncheon brought representatives from Maine Law and Verrill Dana together with past and present Roger A. Putnam Fellows.
Quotes in the Media