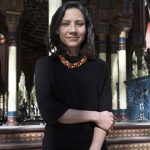 Maria Luisa Aguilar Rodriguez, International Advocacy Officer at the Miguel Agustín Pro Juárez Human Rights Center (Centro Prodh) in Mexico, will present the eighth annual Justice For Women (JFW) Lecture on March 27, 2019. She will discuss The Human Rights Crisis in Mexico: Origins, Impacts, Opportunities.
Ms. Aguilar Rodriguez is a Mexican human rights advocate. She has spent the last eight years working to promote accountability for human rights violations at two of Mexico's foremost human rights organizations. She joined the Miguel Agustín Pro Juárez Human Rights Center (Centro Prodh) after working at a grassroots organization in the State of Guerrero in Southern Mexico, a state notorious for its violence and human rights abuses. At Centro Prodh, she focuses on access to justice and reparations for victims of human rights violations. She advocates for new judicial mechanisms aimed at combating impunity and also works on cases related to women's and indigenous rights, torture (especially sexual torture against women), and enforced disappearances. She holds a B.A. in International Affairs from the Monterrey Institute of Technology and Higher Education and an M.A. in Human Rights in Theory and Practice from the University of Essex, UK.
"In stewarding the rule of law for future generations, there is no more important work being undertaken in furtherance of humanity than that being done by Maria Luisa Aguilar Rodriguez. Her commitment to access to justice ensures that vulnerable voices are heard in Mexico and beyond, and that the law – and its process and infrastructure – remains current and available to the people who need it most," said Danielle Conway, dean and professor at the University of Maine School of Law.
The 2019 Justice For Women Lecture will begin with a reception at 5:30 pm, followed by the lecture at 7:00 pm on Wednesday, March 27 at the Abromson Community Education Center in Portland. This event is free and open to the public, but registration is required. Please register at www.mainelawcommunity.org/2019jfw or by calling 207.780.4344.
The JFW Lecture Series, presented by the University of Maine School of Law, brings speakers to Maine each year to discuss their work and strategies to promote justice for women and girls. Maine Law established the series in 2011 with leadership and support from attorney and civic leader Catherine Lee of Lee International.
Previous JFW lecturers were:
Hon. Unity Dow (2012) –  the first woman to serve as a judge on Botswana's High Court.
Leymah Gbowee (2013) – an activist and women's rights advocate who won a Nobel Peace Prize for helping to end civil war in Liberia.
Dr. Sima Samar (2014) – chair of the Afghanistan Independent Human Rights Commission, and founder of the Shuhada Organization
Ruchira Gupta (2015)  – a global leader in the fight against sex trafficking and the founder and president of Apne Aap Women Worldwide (India).
Dr. Lindiwe Sibanda (2016) – CEO and head of mission of the Food, Agriculture and Natural Resources Policy Analysis Network (Zimbabwe)
Zainah Anwar (2017)  – Director of Musawah and Founding Member and former Executive Director of Sisters in Islam (Malaysia)
Mariam Jalabi (2018) – Representative of the National Coalition for Syrian Revolutionary and Opposition Forces' Office at the United Nations in New York
Hon. Albie Sachs of South Africa also participated as a special lecturer in 2013.
2019 Courage is Contagious Award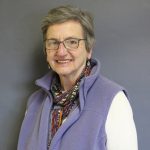 The 2019 Courage is Contagious Award will be presented during the March 27th lecture to Lucky Hollander.
Ms. Hollander has worked in Human Services for over 45 years, focusing on child and family outreach services and child advocacy. In 2013, she developed a project called Hopeful Links, which focuses on making sure unaccompanied minors from war-torn countries (mostly Central Africa) have meaningful adults in their lives, safe housing, legal assistance, emotional and medical care, and the support they need to be successful. She was inspired to create Hopeful Links after meeting an unaccompanied minor who needed a place to live, and learning there were many other children in Portland who have been sent here alone for their safety. Ms. Hollander has done extensive training and community organizing locally and nationally on issues of child abuse and prevention, domestic violence, and the use of focus groups to develop programs and community initiatives. She holds a B.A. in Social Work and an M.S. in Counseling and Psychology.
Ms. Hollander is the fourth recipient of the Courage is Contagious Award. This award is presented annually at the Justice For Women Lecture to an outstanding woman leader who demonstrates a commitment to the mission of the Justice For Women Lecture Series which is to raise awareness in Maine about the injustices women and girls face globally and locally. Past recipients of the Courage is Contagious Award are:
2016: Catherine Lee, Lee International
2017: Janine L. Roberts, Westbrook Chief of Police
2018: Dr. Joyce Taylor Gibson, former Dean of the University of Southern Maine's Lewiston-Auburn College
The Justice For Women Lecture Fund, an endowed fund, was created with the goal of sustaining the JFW Lecture Series in perpetuity. Supporters can make a gift to the lecture series using our online form.