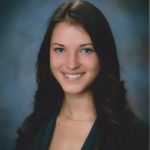 Cheryl Saniuk-Heinig, a rising 3L at the University of Maine School of Law, placed second in the national writing competition of the American College of Coverage Counsel (ACCC). In addition to a cash prize, she has been invited to attend the ACCC Annual Meeting later this year, an event otherwise restricted to ACCC Fellows and leaders in the Insurance Law industry.
Established in 2012, the ACCC is comprised of preeminent coverage and extracontractual counsel in the U.S. and Canada, representing the interests of both insurers and policyholders. The college hosts a yearly competition for law students around the country that demonstrate a passion for the area of Insurance Law. This year's Law Student Practical Skills Writing Competition on Insurance Law required entrants to examine a fictional ending to Shakespeare's Romeo and Juliet. In this fictitious Act VI, The Duchy of Paris and the Capulets have sued the Montagues, claiming that their negligent supervision of Romeo contributed to the death of their children. Additionally, the Capulets have brought wrongful death and malpractice claims against Friar Laurence, alleging that his trafficking in a controlled substance–Nightshade — led to Juliet's death and that his advice to Juliet failed to meet Fourteenth Century standards for post-marital counseling.
Cheryl found out about the writing competition from Professor Jennifer Wriggins, who taught her Insurance Law class.
"Cheryl deserves full credit for this achievement," said Professor Wriggins. "She is an outstanding student who understands the many facets of insurance and insurance law. Many other organizations sponsor national writing competitions in different subject areas and hopefully this will encourage other students to participate."
Originally from Boston, Massachusetts, Cheryl previously worked for Unum in Portland before applying to Maine Law. She has spent the past two summers as a Rural Law Fellow at Camden Law LLP in Camden, Maine.