Gabriel Siwady (1L): Finding a second home in Maine
McKusick Diversity Fellow
---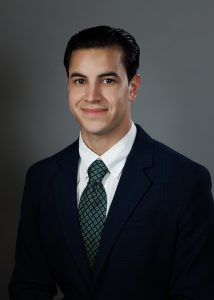 Gabriel Siwady is a 1L international student from Honduras, but in recent years, Maine has begun to feel increasingly like his second home.
Siwady sought educational opportunities outside of Honduras at a young age, studying history and anthropology at Bowdoin College in Brunswick, ME. Even at that time, Siwady said, he felt drawn to the way of life in Maine, the state's beauty, and the unyielding hospitality of its people. This is why, several years after his undergraduate career and a graduate degree from The University of Edinburgh, Siwady decided to return and pursue his J.D. at Maine Law.
His return to Maine wasn't just about the ample opportunity for outdoor recreation or even the excellent legal education offered by the law school, Siwady said. He's interested in working with migrant communities in Maine, helping others to experience the opportunities and sense of belonging the state has afforded him.
"Whether it's seasonal workers or people looking to permanently relocate, there are a lot of immigrant communities in Maine, especially from African and Latin American countries," Siwady said. "I think we all know that there are often fewer opportunities for immigrants and that issue is compounded if they have any sort of legal trouble. I want to start looking for solutions to assist migrant populations with legal trouble instead of working in a system that threatens deportation when someone without citizenship status gets in trouble with the law. For immigrants in legal trouble, the stakes are often very high."
Siwady's work in this area will begin this summer with the Maine Law Center for Youth Policy & Law. He is specifically interested in examining the intersection of youth justice and immigration law. "I'm not interested in propping up the current system" he explained. "I'm interested in crafting a system that emphasizes reform."
This is a way of thinking that feels natural to Siwady, and one embraced and encouraged by his peers and professors at Maine Law.
"Every day I go to class and am excited by the level of intellectual curiosity exhibited there," Siwady said. "I'm amazed by the minds and the questions and the diversity of viewpoints that surround me daily at Maine Law."
Much of Siwady's time is taken up by his studies, which is as it should be, he reflected, but he also understands balance is important both in the law and in life. When he's not in class or studying, Siwady enjoys playing on the Maine Law soccer team or indulging his inner cinephile, often watching dramas and thrillers. Of course, when the weather allows, he's most often found outside, exploring the islands and lakes of Maine in the summer.
"The natural beauty of Maine is something that's accessible to everyone, and I think that's part of the reason I enjoy it so much," Siwady continued. "Enjoying it makes me feel even more like this is home. It's also the community here at Maine Law – faculty, staff, and students – that have helped me build and find a deep sense of belonging and community."