The Maine Center for Juvenile Policy and Law (MCJPAL) at the University of Maine School of Law was established in June 2017 with a grant from the John T. Gorman Foundation to support Juvenile Justice Clinic students and faculty in their policy work. Through on-going coordination of and collaboration with partners and stakeholders, the MCJPAL works to advance efforts to reduce harm to and increase positive outcomes for current and former system-involved Maine youth. In this coordinating role, the MCJPAL provides the platform for the Juvenile Justice Reform Work Group, a core group of juvenile justice professionals and advocates who work to identify and examine juvenile justice policies, programs, and practices designed to reduce inappropriate detention and confinement and increase fairness in the juvenile justice system. The MCJPAL is also the Maine member of the National Juvenile Justice Network.
---
Student Impact Summit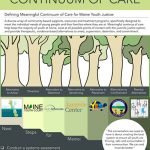 On March 22, 2018, Barrett Littlefield '18 and Bryn Gallagher '18 presented on their project, "Continuum of Care in Maine's Juvenile Justice System," during Maine Law's annual Student Impact Summit. A continuum of care is an array of primarily non-residential community-based programs, supports, resources, and services specifically designed to meet the needs of young people and their families in their homes. Their project mapped some existing resources along the continuum of care and set forth a blueprint on how to identify and fill the remaining gaps. A video of their presentation is available on Maine Law's YouTube Channel.

---
Youth Justice in Maine: Imagining a New Future
On November 17, 2017, MCJPAL and the University of Southern Maine's Justice Policy Program hosted a juvenile justice summit, Youth Justice in Maine: Imagining a New Future. This event convened more than 100 national and local experts, juvenile justice practitioners, and youth voices, all of whom are committed to improving youth justice in Maine. In January, the MCJPAL and Muskie's Juvenile Justice Program released a summary of the summit with recommendations for next steps in reforming Maine's juvenile justice system. Read the full report.
---
Juvenile Record Informational Brochure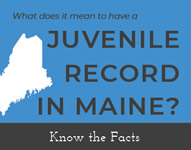 Following up on the March 2017 release of Unsealed Fate: The Unintended Consequences of Inadequate Safeguarding of Juvenile Records in Maine, which found widespread misinformation about what it means to have a juvenile record in Maine, this new resource answers some of the most frequently asked questions. MCJPAL worked with members of the Juvenile Justice Reform Work Group, the Department of Corrections, the Juvenile Justice Program of the USM Muskie School of Public Service, and other key stakeholders to develop the resource. 

Download "Know the Facts: What does it mean to have a juvenile record in Maine?"
---
Learn More
To learn more about the Maine Center for Juvenile Policy and Law, follow the MCJPAL on Facebook or subscribe to the Youth Justice in Maine monthly newsletter.
---
Contact
Jill Ward, Project Manager
207.780.4331
jill.ward@maine.edu