---
The Center for Youth  Policy & Law (CYP&L) at the University of Maine School of Law was established in June 2017 with a grant from the John T. Gorman Foundation to support Youth Justice Clinic students and faculty in their policy work. Through ongoing coordination of and collaboration with partners and stakeholders, the Center for Youth Policy & Law works to advance efforts to reduce harm to and increase positive outcomes for current and former system-involved Maine youth and emerging adults. In this coordinating role, the Center provides the platform for the practitioner work group, a core group of youth justice professionals and advocates who work to identify and examine youth justice policies, programs, and practices designed to reduce inappropriate detention and confinement and increase fairness in the justice system. The Center is also the Maine member of the National Juvenile Justice Network.
---
Community Reintegration Collaboration
In partnership with the University of Southern Maine's Place Matters project, the Maine Department of Corrections Juvenile Division, and the Maine JJAG, the Center for Youth Policy & Law developed, supports, and co-facilitates Regional Community Care Teams designed to help individual system-involved youth and their families and to inform broader system change and investment in a community-based continuum of care. The Center co-facilitates the Region One Regional Care Team which meets monthly. CYP&L and USM have also co-authored reports on the first two years of the project, including youth and system outcomes. Learn more about the Regional Community Care Teams.
---
Youth Justice Legislative Updates
At the end of each session of the Maine Legislature, student fellows compile a list of bills that impact youth and youth justice policy and provide a short summary of each, including whether they were approved, rejected, or remain active for further consideration. 
---
2021-2022 Changes to the Maine Juvenile Code
Youth Justice Clinic and the Center partnered with the Maine Prosecutors Association and the Maine Juvenile Justice Advisory Group to develop and host a half-day training on October 1, 2021 to educate stakeholders on the changes to the Juvenile Code enacted in the first session of the 130th Legislature. Below is video from the training plenary and resources related to action from the 130th Legislature.
---
Juvenile Record Information Brochure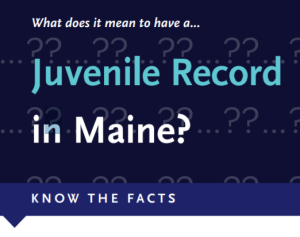 Updated in January 2022: The Center and the Youth Justice Clinic updated this important resource for youth, families, and other system stakeholders to explain what it means to have a juvenile record in Maine.
Download "Know the Facts: What does it mean to have a Juvenile Record in Maine?"
---
Juvenile Justice Task Force and System Assessment
The Center for Children's Law and Policy (CCLP), the organization tasked with conducting a statewide assessment of Maine's juvenile justice system, presented its final report of findings and recommendations to the Maine Juvenile Justice Assessment and Reinvestment Task Force in February 2020. Since the report was released, several recommendations have been acted upon and an update on Maine's progress was presented by the CCLP at the October 2021 meeting of the Maine JJAG. Read more about the work of the Task Force, the Final Report and the Assessment Update here.
---
Publications
The Center and the University of Southern Maine's Justice Policy Program have partnered on several publications in the Place Matters series around a community-based continuum of care for transition-aged youth and youth impacted by the justice system.
Sanchez, M., King, E., Ward, J. and Foley, J. Regional Care Teams First Year Review: Cross Systems Collaboration to Improve Positive Youth Outcomes, November 2021.
Sanchez, M., King, E. and Ward, J. Aligning Investments in a Community-Based Continuum of Care for Maine Youth Transitioning to Adulthood, March 2019.
Sanchez, M., King, E. and Ward, J. Youth Justice in Maine: Imagine a New Future Summit, Summary & Recommendations, January 2018.
---
Greater Good Podcast
Greater Good Podcast: Juvenile Justice: Past, Present, and Future (November 2019). Professor Christopher Northrop, Jill Ward, and Jonathan Ruterbories were recently guests on the Greater Good Podcast to discuss juvenile justice and the treatment of children who come in conflict with the law. You can listen to the two episodes below:
---
2019 Student Impact Summit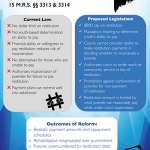 On March 14, 2019, Whitney Lallas '19 and Reginald Parson '19 presented on their project, "Juvenile Justice Reform: Restitution Reconsidered," during Maine Law's annual Student Impact Summit. When determining a disposition for juveniles, the court has the option to order a juvenile to pay restitution. However, juveniles face a number of challenges that prevent them from satisfying their restitution obligation. In light of these challenges, a bill was submitted to the Maine Legislature, with the hopes of providing better outcomes for system-involved youth. A video of their presentation is available on Maine Law's YouTube Channel.
There was also a panel on this topic at the 2019 Student Impact Summit. A video recording of the panel presentation is available on Maine Law's YouTube channel.
---
Contact
Jill Ward, Director
207.780.4573
jill.ward@maine.edu

Like the Center for Youth Policy & Law on Facebook
---