Emma Pooler, 3L: A calling for serving rural Maine
Rural Practice Clinic Student Attorney
---
"The negative of practicing law in a small town is that people know you," Emma Pooler, 3L said. "The positive of practicing law in a small town is also that people know you." 
Pooler, who grew up in the northern, rural town of Fort Kent, ME, experienced this reality firsthand. As one of Maine Law's Rural Practice Clinic's (RPC) two first student attorneys, Pooler recently put all of her skills from two and half years of law school to use back in her hometown.
The RPC, part of Maine Law's Cumberland Legal Aid Clinic, opened in collaboration with the University of Maine Fort Kent in January 2023. The clinic brings access to legal representation and resources to a rural community, which has been historically underserved. Maine faces a shortage of lawyers and access to representation generally, a scarcity even more pronounced in rural areas. This is a gap the RPC aims to close, not just in Fort Kent but through training lawyers in rural practice that can then serve other remote areas of the state.
It's not just the opportunity to return to her hometown that drew Pooler to the RPC, it's also the ability to practice law in a creative and intimate way.
"When you're working in rural law you must be a jack of all trades. In the clinic so far I've done debt collection work, estate law, criminal defense, and probate work," Pooler explained. "It also can mean helping your former babysitter get out of a traffic ticket."
One of Pooler's favorite activities through RPC, however, is Lawyer of the Day, a program where lawyers volunteer at local courts to provide sound, free legal advice to those in need. While the volunteer lawyer can not represent people in the courtroom, they can offer advice and information so defendants are better equipped when going before a judge. To Pooler, this program embodies the spirit of the law, which has the potential to be a great equalizer but due to lack of access and resources is often the opposite.
Mainers are proud, Pooler explained, especially in Northern Maine, so giving people tools to educate and help themselves is an ideal means of serving populations that often fall through cracks in the justice system.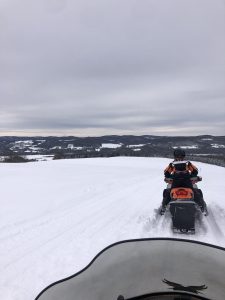 When she graduates this spring, Pooler will begin work with the firm Eaton Peabody in Portland, ME. 
"Just like it will take time to build up legal services in Fort Kent, it will take me time to add to my legal skills toolkit," Pooler continued. "The firm I'm going to work for is passionate about helping Mainers and I will have ample opportunity to serve rural Mainers while working there and gaining valuable experiences."
While many people choose to leave the state for their education, Pooler said she never seriously entertained the idea. Her hobbies – like ice-fishing and snowmobiling –  are best accomplished in Maine, of course, but more than that, Pooler said she wants to give back to the state and community that gave so much to her. And part of that community now includes Maine Law, where she found immense support as a law student and a spirit of service that fostered an immediate connection to the school.
"Service to state, country, to each other is a thread that ties much of the Maine Law community together," Pooler said. "As the only law school in the state, we're all very aware that our classmates aren't our peers for three years, they're our peers for life. Our professors aren't just our teachers for a few years, they are in many cases the leading voices in their specialty for the state. I think that is one of the real assets and beauties of a Maine Law education."