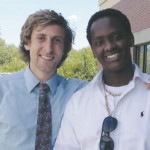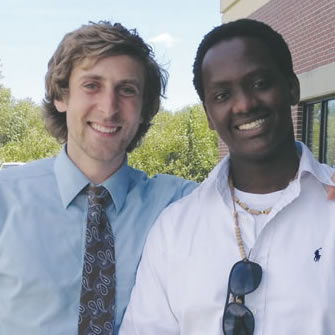 "I never dreamed that I would engage in such meaningful work"
Michael O'Brien graduated from the University of Maine School of Law in 2014.

---
Community impact isn't always about a large group of people or sweeping reform. Sometimes it happens at ground level. Sometimes it involves just two people from opposite sides of the world, embracing the opportunity to help one another, and, in the process, changing both of their lives.
This was the case for Michael O'Brien and a teenager from southeast Africa, who met through a program within Maine Law's Cumberland Legal Aid Clinic.
Before graduating from Maine Law, O'Brien spent a full year working as a student attorney for the Clinic. He and other student attorneys often provided legal advice to at-risk and homeless juveniles at the Preble Street Teen Center in Portland, under the supervision of Maine Law Professor Christopher Northrop. During one of the visits, O'Brien heard the story of a homeless teenager who had arrived just a few weeks earlier with no family or other support.
"Moved by his positive attitude during such tumultuous times, Professor Northrop agreed to let me meet with the teenager in order to see what I could do to help him obtain a steady bed to sleep in at night," O'Brien said. "I wanted to do everything that I could to help him get settled permanently in Maine."
Over the weeks and months that followed, O'Brien helped the young man find a family to serve as his legal guardian. O'Brien and other students at the Cumberland Legal Aid Clinic represented the family during the process. Ultimately, the team from the Clinic also successfully petitioned for Special Immigrant Juvenile Status. This is a special pathway to citizenship for unmarried children under the age of 18 who are present in the United States, who have been abused, abandoned, or neglected by one or both parents, and for whom it is determined that it is not in the child's best interest to be returned to his or her home country.
While O'Brien helped the teenager find a family and earn long-term permanent resident status, the teenager gave just as much to O'Brien, through his perseverance, friendship, and courage in the face of overwhelming obstacles.
"When I enrolled as a first-year student at Maine Law, I never dreamed that I would engage in such meaningful work before graduation," said O'Brien, who works in the Maine State Legislature's Office of Policy and Legal Analysis.
"The young man has become a long-term permanent resident of the United States, with a loving and supportive family. I feel honored to have had the opportunity to help him along the way."