We are committed to standing up for justice, rather than watching from a safe distance.
Established in 1970, the Cumberland Legal Aid Clinic was one of the first law school clinical programs in the country. The Clinic provides free legal aid to more than 600 low-income individuals and families every year. It is a defining program of Maine Law, providing practical skills training for students and helping to fulfill the Law School's commitment to social justice. All legal services are provided by law students who are enrolled in one of four clinical courses: General Practice, Prisoner Assistance, Youth Justice, and Refugee and Human Rights. Students enrolled in each of these courses also participate in the Clinic's Protection from Abuse program, in which student attorneys assist victims of domestic violence, sexual assault, and stalking seeking civil protection orders. Student attorneys represent real clients in real cases. From intake meetings to filing court documents and standing up before a judge, students handle all aspects of client relations and case management under the close supervision of faculty who are leaders in their fields.
At Maine Law, every student is guaranteed a clinical or externship experience.
Learn More
Want to learn more about the Clinic? Check out the latest edition of the Maine Law Magazine: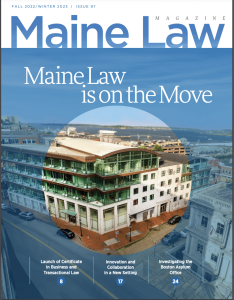 ---
Additional Materials