The Juvenile Justice Clinic provides students the opportunity to address the needs of troubled children in a number of diverse settings. Students in the Juvenile Justice Clinic frequently collaborate with local agencies to assist clients in meeting educational, mental health, and housing needs. With guidance and instruction from a faculty supervisor, student attorneys meet with clients and their families, attend school meetings, file motions, appear in court, and take the lead in developing programs for their clients designed to avoid both incarceration and recidivism. Students also work with other legal aid attorneys at the collaborative 'Tuesdays at the Teen Center' project, which involves weekly meetings with homeless teens at the Preble Street Teen Center to provide free legal advice, resource referrals, and an occasional pizza.
The Juvenile Justice Clinic provides opportunities for some students to pursue broader juvenile justice policy issues. For example, students often work with Maine's Juvenile Justice Advisory Group and Criminal Law Advisory Committee to research, draft, and edit proposed legislation. Other students may work on ongoing juvenile advocacy projects in Maine and around the country.
---
Maine Center for Juvenile Policy and Law
In June 2017,  Maine Law established the Maine Center for Juvenile Policy and Law (MCJPAL) with a grant from the John T. Gorman Foundation to support Juvenile Justice Clinic students and faculty in their policy work.
---
2018 Student Impact Summit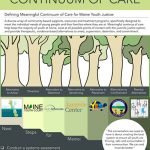 On March 22, 2018, Barrett Littlefield '18 and Bryn Gallagher '18 presented on their project, "Continuum of Care in Maine's Juvenile Justice System," during Maine Law's annual Student Impact Summit. A continuum of care is an array of primarily non-residential community-based programs, supports, resources, and services specifically designed to meet the needs of young people and their families in their homes. Their project mapped some existing resources along the continuum of care and set forth a blueprint on how to identify and fill the remaining gaps. A video of their presentation is available on Maine Law's YouTube Channel.
---
Materials Published by the Juvenile Justice Clinic or MCJPAL
Juvenile Record Informational Brochure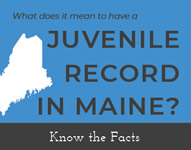 Following up on the March 2017 release of Unsealed Fate: The Unintended Consequences of Inadequate Safeguarding of Juvenile Records in Maine, which found widespread misinformation about what it means to have a juvenile record in Maine, this new resource answers some of the most frequently asked questions. MCJPAL worked with members of the Juvenile Justice Reform Work Group, the Department of Corrections, the Juvenile Justice Program of the USM Muskie School of Public Service, and other key stakeholders to develop the resource. 

Download "Know the Facts: What does it mean to have a juvenile record in Maine?"
Additional Materials