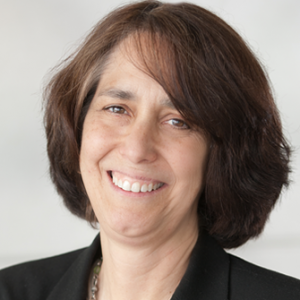 Annmarie Levins '83 is Senior Vice President and Chief Strategy Officer at the LSAC. In this position, she works closely on business strategy with LSAC President and CEO Kellye Testy and the rest of LSAC's leadership team.
At the time of this interview, Annmarie was Associate General Counsel at Microsoft Corporation, where she managed the legal support for Microsoft's U.S. and Canadian subsidiaries.
You are a 1983 graduate of the University of Maine School of Law. What impact did Maine Law have in your life and career?
Maine Law prepared me well to practice law in very different roles, from clerking, to being a prosecutor, to being an in-house lawyer. The faculty taught us to be rigorous, practical, and to keep our eyes on the big picture.
How did you find your way to becoming Associate General Counsel at Microsoft?
After teaching at the University of Washington for a few semesters, I really missed the excitement of practicing law. I had been a federal prosecutor in New York and decided to go back to that work in the U.S. Attorney's Office in Seattle. From there, Microsoft recruited me to help set up an international anti-counterfeiting enforcement program. The criminal organizations involved in counterfeiting weren't all that different from the drug trafficking organizations I prosecuted in New York.
What do you enjoy most about your job?
I have good friends and colleagues all over the world, and they are some of the smartest people I've met anywhere. The issues we deal with change constantly, and we need to know as much about business, technology, and the competitive landscape as we do about legal issues. There is never a dull moment.
What do you know now that you wish you knew back as a law student?
The hardest issues you deal with in your career are probably not going to involve legal questions but will involve understanding what clients or opponents really want, what their bottom line motivations really are, how to come to a resolution that is fair and satisfactory enough for all sides. Asking questions to understand the human dynamics is often the key to resolving what comes to you as a legal problem.
What advice do you have for prospective law students today?
Be open to new opportunities. If someone had told me when I was in law school that I would end up working for a multinational corporation and loving it, I would have laughed. It was the farthest thing from my mind.
Who has been your greatest inspiration?
From a professional perspective, Thurgood Marshall is my hero. He was a brilliant lawyer and an even more brilliant legal and political strategist.