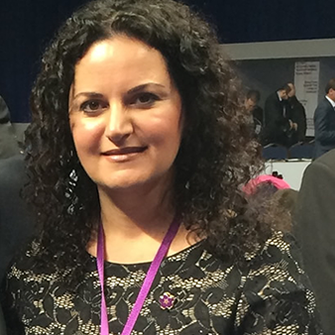 Anna Astvatsaturian Turcotte '03 is a strong voice in the global fight against ethnic cleansing and an inspiration for survivors around the world.
In 1988, Turcotte was a 10-year-old girl living in the seaside city of Baku, in the Soviet Republic of Azerbaijan. She kept a diary, recording her hopes, dreams, and observations on life. Then her childhood was shattered as her family and thousands of Christian Armenians were forced out of Azerbaijan by the majority Muslim Azeri population. Turcotte's family fled to nearby Armenia.
Turcotte's memoir, Nowhere, a Story of Exile, follows the family's journey as refugees from Baku all the way through their resettlement near Fargo, North Dakota in 1992. The book was published in 2012.
Turcotte became a U.S. citizen in 1997 and graduated from the University of Maine School of Law in 2003. She was one of the first Americans to clerk for the International Criminal Court in The Hague, Netherlands. She and her husband, John Turcotte '00, and their two children live in Westbrook, Maine, and she works in the financial industry.
What were some of your emotions when your memoir was published?
I began writing this book by hand at 14 years old, soon after arriving to the United States, finishing it right around the time I turned 16. The book was always intended to be a record of our family history for future generations, for my children and grandchildren, to know what we went through to come to the U.S. and build a life for them. It wasn't censored in any way or tainted by political views. It was simply a young girl's story of experiencing human beings at their worst and the endless search for belonging after being banished from her home. Once the decision was made to publish it, I decided to keep it with all the details, just as they were, because it is a historic record.
Releasing the book was liberating, more so than writing it as a child. And in addition to the initial emotional component, an unexpected thing happened. I began receiving messages from fellow refugees thanking me for telling my story, which is essentially our story, because it helped them begin their healing process 24 years later. I also began receiving messages from strangers who had never heard of this conflict, who appreciated the book with such surprising warmth and understanding.
What audiences do you hope to reach with the book?
First and foremost, I want to reach the very people who have never heard of Armenians from Azerbaijan, the Nagorno-Karabakh conflict, and the plight of people of Nagorno-Karabakh still fighting for their independence. This tragedy was covered up, and attempts were (and are still made) to erase the history by the past and present Azeri governmental powers. Armenian refugees were too traumatized to tell their story. I want the world to learn about what happened. I also want the world to understand that Nagorno-Karabakh – ancient Armenian land which is currently fighting for its independence from Azerbaijan – is subjected to the same abuses we were and the U.S. needs to recognize their independence in order to release these peace-loving people from the brutal Azeri hold.
Do you see yourself as a role model for other survivors of ethnic violence?
I don't wish to be a role model to the survivors and don't see myself in that way. The survivors are my role models. People like my parents and their friends, people that endured so much and came through it remarkably are my role models. All of the Armenian refugees who did not perish, who were spread to all ends of the world to never see each other again, survived and continue working toward a better future for future generations. I hope through my book I am their voice.
There are many people unattached to this conflict who wrote to me that they will make sure their children read my book. I think the lessons of my experience go beyond the conflict itself – that no matter what happens to you – you have your identity, your inner strength, your pride in yourself, to push forward.
You visited Capitol Hill to discuss issues of importance to Armenian Americans, and the current situation in Nagorno-Karabakh. Can you tell us a little about that experience?
Representative of Nagorno-Karabakh to the United States, Robert Avetisyan, invited me to Washington D.C. to attend the Capitol Hill celebration of the 21st anniversary of Nagorno-Karabakh independence from Azerbaijan. It was hosted by the Congressional Armenian Caucus and the Armenian National Committee of America.
While in Washington I met many amazing people, including members of Congress and Armenian and Nagorno-Karabakh diplomats who were presented with my book. I met many activists that fight daily for the people of Nagorno-Karabakh and their freedom. At the close of my trip, I made a small presentation to the congressional audience on the history of the events that led me to become a refugee, which offered a glimpse into the reality of what ethnic cleansing is really all about, aside from the clinical and often political terms in which these issues are discussed. I hope my statement and continuing work are helpful to the people of Nagorno-Karabakh.
You went to high school and college in North Dakota. What led you to attend the University of Maine School of Law?
My plan was always to end up on the east coast, to be close to the United Nations and the human rights world. Right before attending Maine Law I put myself through college and planned on putting myself through law school. Maine Law offered a great legal education and is geographically close to New York, while it is also affordable.
What are some of your favorite memories of your time in law school?
My most memorable and favorite memory will have to be the "Eyes on the ICC" Conference that the International Law Society, which I led as President, hosted along with the United Nations Association of Maine. The panel consisted of stellar international law experts and State Department officials and brought in law students, professors, and the Maine legal community. Additionally, I don't remember a moment when I wasn't volunteering somewhere, whether it was Volunteer Lawyers Project, Immigrant Legal Advocacy Project, or elsewhere. I really appreciated the encouragement from the school to volunteer and be useful to the community.
When you weren't in class or studying, where were you most likely to be found?
When I wasn't in class or studying I was frequently found at the United Nations in New York City, working with many non-governmental organizations in their efforts to build and guide the International Criminal Court in The Hague, where I ended up clerking in 2004.
Did your studies at Maine Law help prepare you for your role as a human rights advocate?
Aside from a wonderful and invaluable legal education, lifelong friendships with the students and faculty, I remember small but important things that the Law School did for me that I will never forget and appreciate to this day.
During my 2L and 3L years I worked for an organization that attended frequent Preparatory Commission meetings of the International Criminal Court at the United Nations in NYC. Eventually, after the Court was created, these meetings turned into the Assembly of States Parties of the ICC also being hosted at the UN. This was an amazing opportunity and my personal passion. The staff and faculty recognized this and allowed me to be flexible with my classes for these periods and study remotely, sometimes a week or two at a time mid-semester. This allowed me to witness history, observe international law in action, and help build the first in history permanent International Criminal Court, where I ended up working and which just celebrated its 10th anniversary.