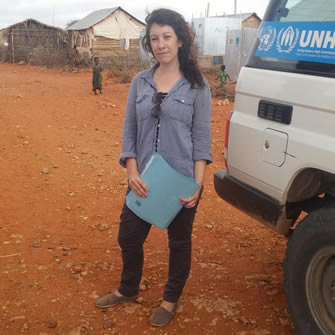 Katie Narbus '14 is from the Moosehead Lake Region of Northern Maine. She graduated with a B.A. in history from Montana State University in Bozeman, Montana. She worked with the United Nations High Commissioner for Refugees in Kenya, South Africa, Zimbabwe, and Ethiopia, before becoming an asylum officer for U.S. Citizenship and Immigration Services in Boston.
Where were you before attending Maine Law?
I spent five years in Montana completing my first degree, working at a French Bistro, skiing, and hiking.
How did you choose Maine Law?
I had been away from Maine and my family for nearly eight years, so I felt that it was time to come home.
How did Maine Law's experiential learning opportunities impact you?
I certainly found the clinics to be Maine Law's strength. You can take all the classes you want, but you really get a head start when you learn how to work with clients and with other colleagues. My time at the Refugee and Human Rights Clinic (RHRC) was the gateway into a career that I did not previously know existed – an international resettlement consultant for the United Nations High Commissioner for Refugees. Every day with UNHCR I used the interviewing and writing skills that I learned in the RHRC.
Who at Maine Law was particularly influential on your career?
Professor Anna Welch was more than a professor. She was a mentor to each and every one of her students, especially those of us fortunate enough to spend a semester in the RHRC clinic. Professor Welch believes in her students and sees each one as an individual with separate and distinct qualities. Even after graduating, I always feel that I can reach out to Professor Welch for advice and assistance with my career goals.
Can you share a memorable moment at Maine Law that will always stay with you?
It is far too hard to choose a single moment, but my best memories at Maine Law always involve my fellow classmates. However, I suppose watching George tell the story of the "Ant Man" in the first person for Trial Practice will forever put a smile on my face.