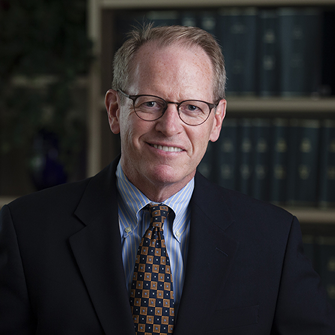 John Veroneau '89 is co-chair of the International Trade and Finance group at Covington & Burling, LLP in Washington D.C.  He served as Deputy U.S. Trade Representative (2007-2009) and previously as USTR's General Counsel, as Assistant Secretary of Defense in the Clinton Administration, as Chief of Staff to Senator Susan Collins, and as Legislative Director, respectively, for Senators Bill Cohen and Bill Frist.
What lessons do you recall best from your law school education?
I long ago forgot the Rule against Perpetuities but will forever remember Mel Zarr's brilliant characterization of certain decisions as "concessions to the shortness of life."
What was your path to appointment as Ambassador and Deputy U.S. Trade Representative (USTR)?
It was a happy confluence of events. I handled trade issues for Bill Cohen when he was in the Senate.  During my time at the Pentagon, I saw how governments interact at senior levels. As USTR General Counsel, I worked the details of U.S. trade law and policy. Fortunately, these experiences were seen as useful preparation for the Deputy USTR position. I can't say I planned any of this, but am grateful for how it turned out.
Do people still call you Ambassador Veroneau?
My teenage sons when they want the car.
You worked in Congress, in the Executive Branch, and in private practice.  What is your most memorable experience?
Probably a trip to Cambodia in 2007 when I was Deputy USTR. In 1980, I had taken a college "gap year" to work in refugee camps with Cambodians who had fled to escape Pol Pot's genocide. Being there some 27 years later, representing my government in trade discussions, was a memorable book-end to my gap-year experience.
What have you found most satisfying about your wide-ranging career?
Probably the variety of experiences and the people I've worked with. I shudder when I think back on how many things I did not understand when I came to Washington 25 years ago. I've benefited greatly by being around smart and interesting people and traveling a good amount.
You are a partner at Covington & Burling in D.C. and work around the world? Do you miss Maine?
I definitely miss Maine. I have lots of family here still so we come up regularly. My wife and I bought a house here a few years ago so we can visit more often.
What is it about your roots in Maine that gives you an advantage in the world of international trade and finance?
My Maine roots and upbringing taught me to focus on listening more than talking. I suppose that has helped me better understand the person sitting across the table from me.
What advice would you give to an aspiring international lawyer?
Many practice areas now have an international component. My colleagues handling antitrust matters spend a good deal of time advising clients on competition issues in Europe, Brazil, and China. So the opportunities for practicing "international law" are expanding to many areas of law. A second language and experience living abroad are useful for lawyers interested in global practice.