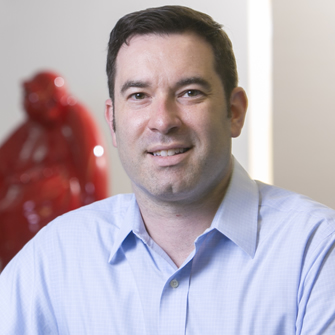 Justin Weiss '06 is the Global Head of Data Privacy at the Naspers Group in Hong Kong, China. In his day-to-day, he looks after data protection as an attorney in the parent company (Naspers), and he also helps advise executives and general counsels in the individual businesses Naspers majority owns and operates. His work touches on matters such as comparative law, contracts and M&A reviews, policy standard setting, privacy trainings, and other strategic counsel projects for corporate, product, engineering, and public policy regulatory functions.
What is most fulfilling about your job?
The Naspers portfolio focuses on businesses in growth/emerging markets across Africa, Latin America, the Middle East, Russia, India, Asia, and Eastern Europe, which I find especially rewarding. To take one example, it is a rare and incredible privilege to sit in a single board room hashing out a multi-national privacy issue with a successful Nigerian (woman!) tech CEO, an Argentinian GC who is also a University Professor, a Ukranian business lawyer who successfully continued his work despite the turmoil in his country and a relocation of his young family to Poland, and numerous other colleagues from India, UAE, Indonesia, and South Africa. I also enjoy being based in Hong Kong as it gives me first-hand exposure to the burgeoning Chinese and South-East Asian Internet and mobile markets.
Before joining Naspers, you worked for Yahoo! for about five years in the area of privacy and international policy. What are you most proud of from that period?
Yahoo! has always been a special company, since the early days of the Internet, and remains an incredible place peopled with talented, funny, experienced, and inspiring colleagues. The relationships I built and the opportunities for growth, including getting the chance to develop others and help introduce them into the international privacy profession are points of pride for sure. Yahoos have a saying that loyal employees 'bleed purple' (a reference to the corporate color splashed over the products, sites, and work environment). I suspect I will always bleed purple no matter where my travels take me.
Why did you choose to attend Maine Law?
Maine is home, and after several years abroad (first as a graduate student, then in Peace Corps, then with the Olympics) I really wanted to take my three years to experience home and Portland again – while getting strong legal training that I could carry with me as an arrow in my quiver, so to speak. I love the state and still return as often as I can.
What are some of your favorite memories of your time at Maine Law?
I got a lot out of the opportunity to work closely on meaningful projects with many of the faculty/external mentors, including research assistance for a few different professors, externing in the Appellate Division of the U.S. Attorney's Office, appearing before a sitting Judge in a mock trial, and preparing U.S. Senate testimony. I also have to say that many of my law school compatriots remain close friends to this day. The bonding that happened at MLA events, on Law Review, late night study sessions, and even bar exam prep is something that I look back on fondly. The small size of the institution both enables and reinforces a closeness of community, which is a value that should not be underestimated.
How did your studies at Maine Law help prepare you for your career?
This is an easy one. In my last semester, in summer of 2006, I took the first Privacy Law course with Trevor Hughes. It opened up a world of opportunity for me to focus my attention on a cutting-edge issue early in the wave of demand for this type of legal counsel among major global Internet players. Trevor does important work for the Law School emphasizing and training to the market need for people whose skills integrate legal expertise with understanding of technology and business models. In addition, I chose a couple specialized 'skills' courses, Legislation and Negotiation, which I later found very useful given the importance of both statutory interpretation and mediation among business competitors to my early trade association days and later work for Yahoo.
You have made gifts in support of Maine Law's Annual Fund and other fundraising efforts. Why is it important for you to support the school through giving?

One of the draws of the Law School has always been the relative affordability of tuition compared to so many other programs that yield significantly higher debt burdens for students. I benefited myself from the economics of being a student in Maine, and so I think it is important to feed back into the system. It is a way of paying it back to a program and a state that "paid it forward" by investing in me and subsidizing my education. As a Maine Law alum I'm happy to make contributions that empower current law students to continue on their paths, to follow their interests, and hopefully help position them to give back themselves in the future.
What advice would you give to the current Maine Law students or those considering a legal education?
In the first year of law school you may spend so much time running with the pack that your horizons subtly narrow, rather than expand. Try not to let that happen to you. From the start, I would encourage all students to preserve your individuality and focus attention on building a personal brand – something that is unique to you, your interests, and your experiences – and to get ready to run with that. Summer decisions and first job roles should be linked to, or at least compatible with, this brand. Class selection can flow from the skills you feel you need to gain in support of your brand. This approach may take you in any number of diverse directions, to unexpected geographies, branches of law, sectors or roles. In my view this is more likely to bring you to work that is gratifying, validating, and something that reflects your authentic self, rather than a version of a law student or a lawyer that you think you are supposed to be based on what you see others pursuing.