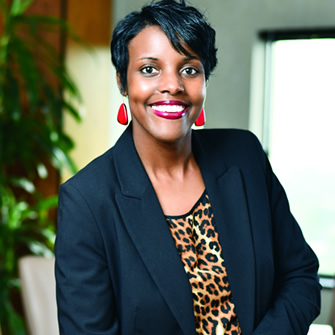 Tunisia Poole is a Georgia native who leads Aflac's Employment and Labor Law team. After graduating from Maine Law, Tunisia practiced with a large law firm in Tennessee for two years and returned to Georgia in 2007 to join the largest labor and employment law boutique firm in the nation.
Why did you choose Maine Law?
I didn't want a lot of law school debt and Maine Law offered me a scholarship. Upon being notified about the scholarship, my Mom and I visited Portland and the Law School. After our visit, we knew that Maine Law was the right place for me.
What is your pre-Maine Law background?
Unlike most Maine Law students at the time that I started law school in 2001, I was a traditional law student. That is, I attended law school immediately after I graduated from college.
What is your current work?
For the past 12 years, I have specialized in employment and labor law. I currently lead Aflac's Employment and Labor Law team. The Employment and Labor Law team advises on matters arising out of the employment relationship and handles employment litigation for Aflac's U.S. Operations. Employment and Labor Law is a broad practice area including but not limited to laws concerning discrimination, harassment, retaliation, workplace safety, restrictive covenants, employment agreements, and unions.
How did Maine Law prepare you for your career?
Because I earned my bachelor's degree in English, I had solid research, analytical, and writing skills when I started law school. Maine Law, however, really honed my analytical, research, and legal writing skills. Law school taught me how to think like a lawyer and the art of persuasion via written communications.
What has surprised you most about life after law school?
I thoroughly enjoyed and excelled in Code-based courses (e.g., Tax, Secured Transactions, UCC, etc.) in law school. As a result, I had my heart set on being a transactional attorney, and I had zero interest in being a litigator.
After completing a summer associate program with a large law firm in Tennessee, I received an offer to work in the Labor and Employment Department, which began my career as a litigator.
I was disappointed that I did not receive an offer to work in one of the transactional practice areas, and my plan was to transition into a transactional role. Twelve years later, I cannot imagine being a transactional attorney because I find employment law and litigation to be both intellectually stimulating and emotionally satisfying. There is never a dull moment!
I would advise current students to be open to opportunities and/or areas of the law that may not be their heart's desire at the outset. There is nothing wrong with having career goals and aspirations, but do not allow tunnel vision to cause you to miss out on an opportunity of a lifetime.
Were there particular Maine Law faculty members who influenced you?
Professor Mel Zarr's Civil Procedure course influenced me the most. As a litigator, I have a fond appreciation of Law is a Lawyer Driven Process (LLDP)! Professor Nancy Wanderer's Legal Writing course also played an important role in jumpstarting my legal career. One of the reasons I was able to secure a position with a large law firm immediately after graduating from law school is because I successfully completed the firm's summer associate program, which required the submission of various legal writing assignments. As a first year associate, partners praised my legal writing skills.
Why should students consider Maine Law?
Maine Law has excellent faculty who are subject matter experts and genuinely care about students. Faculty members encourage you to ask questions and to contact them before, during, and after office hours. I distinctly remember several of my professors – Lois Lupica, Nancy Wanderer, Tom Ward, Jennifer Wriggins, and Mel Zarr to name a few – spending time with me outside of their office hours to answer my questions.
I can assure prospective students that they will get a quality education if they attend Maine Law. As for prospective students who are not from Maine and want to practice law outside of the State of Maine, I am living proof that you can do it! In fact, I encourage prospective Maine Law students to pursue and accept employment opportunities outside of Maine and the Northeast so that other regions can benefit from Maine Law talent.