Matthew Edwards, 2L: Following the winding path
Business and Transactional Law Certificate student
---
Second-year student Matthew Edwards didn't follow a straight path to Maine Law. His inquisitive mind took him on a few detours first, but Edwards said it's that natural curiosity that has helped him succeed in law school.
"I think anyone with any background can come to law school and do well," Edwards reflected. "Specific knowledge, a specific education or upbringing, a pre-law path or not, none of that determines how well you'll do here. What matters is having an inquisitive mind and a learning process that works for you. And you have to enjoy reading."
Edwards grew up in Lake Placid, NY and graduated from Connecticut College with a double major in economics and environmental science. After college, he spent some time working a variety of jobs, from alpine ski coaching to construction, reading, and investigating the issues that most interested him.
When the COVID-19 pandemic hit, Edwards took a moment to evaluate what the next five to ten years of his life might look like. He wanted a career but one that would keep him engaged and learning while also allowing him to be part of a community. Both opportunities presented themselves at Maine Law.
"I think law school is very rewarding for anyone who enjoys learning because no matter your background you're going to have to develop a new way of thinking and writing," Edwards said. "It's deeply satisfying to understand concepts that at first seemed impenetrable, it's like a new world opens up."
As a member of The Energy and Environmental Law Society (EELS) and Ocean and Coastal Law Journal, Edwards continues to develop his interest in environmental issues, which pairs nicely with the He is also Certificate in Business and Transactional Law he is also pursuing. This certificate is one of three offered by Maine Law, accompanied by the Certificate in Environmental and Oceans Law and the recently established Certificate in Public Interest and Social Justice.
Edwards hopes to translate this experience into a career opportunity in Maine, a state where the intersection of the environment and business has always proved a salient and pressing area. "Businesses have to be able to navigate environmental regulations and impacts and regulator agencies need to understand the potential implications for businesses and commerce."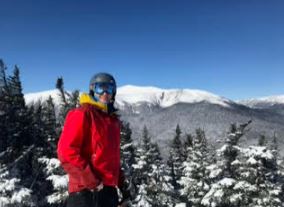 While Edwards sees Maine and Portland as a place with career potential, he also wants to stay because of the way of life it offers. One reason Edwards chose Maine Law was because of the balance between city amenities and proximity to nature. "In the winter I try to get out skiing every weekend, but in the summer I'm a big cycler," Edwards shared. "In Portland, I live 2 miles from downtown and can also be on beautiful country roads in about five miles. There aren't many places you can get that."
And it's not just the outdoors that helps Edwards find balance and enjoyment, it's also the Maine Law environment, which cultivates an atmosphere of inclusivity and support.
"I've spoken to friends at other law schools, and they don't see the spirit of collaboration and kindness we have here," he said. "These past finals were actually an enjoyable experience for me because of how much everyone pulled together to support each other. How many other law students can say that?"