When people are incarcerated, their "normal" lives get placed on pause – but their legal affairs and loved ones don't. Prisoners and their families face difficult circumstances for managing parental rights, probate, and other civil matters. Whether these issues are related to the incarceration or independent of it, they require legal counsel often impossible for prisoners to obtain.
The Prisoner Assistance Program, part of Maine Law's Cumberland Legal Aid Clinic, helps men and women inmates at the Windham Correctional Center with a wide range of civil legal matters. Third year law students, who have been sworn in as student attorneys, meet with their clients in the prison to assist them with their civil legal matters.
We know of no other clinic in the country that does this kind of work. Not only does the program provide legal assistance to people who would otherwise not have access to it, but it also provides a unique opportunity for our students. The student attorneys manage large caseloads and engage in the same full range of civil legal work as lawyers. Inside the walls of a prison, our students are able to practice law while still in law school.
The incarcerated are a population often forgotten by society, but not by their families. Through the vital work of the Prisoner Assistance Clinic, students at Maine Law seek to reduce the legal burdens they carry.
2018 Student Impact Summit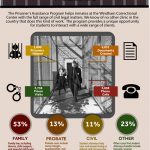 On March 22, 2018, Kelsey Doane presented on her project, "Thinking Outside The Box Inside the Walls," during the Law School's annual Student Impact Summit. She described the wealth of experience that she gained while working in the Prisoner Assistance Clinic. She (and other Maine Law students) met with their clients in the prison to assist them with their various legal issues such as: child support, torts, foreclosure, guardianships, wills, powers of attorney, breach of fiduciary duty, failure to pay wages, recovering licenses, copyrights, and incorporation. A video of her presentation is available on Maine Law's YouTube Channel.