In the Refugee and Human Rights Clinic, student serve as the attorneys assisting low-income immigrants through a broad range of cases and projects. The Clinic enrolls approximately 6-8 students a semester who earn six credit hours upon successful completion of the course. Students receive close guidance throughout the course under the supervision of Clinical Professor Anna Welch, who formerly taught at the Stanford Law School Immigrants' Rights Clinic.
The course targets a critical gap in access to justice – providing direct legal representation and broader advocacy to immigrants and refugees seeking political asylum and similar protections under federal law, while training future attorneys on how to best serve the legal needs of immigrants. Clients include, for example, asylum applicants who have fled human rights abuses in their home countries and are seeking refuge, immigrant survivors of domestic violence, and abandoned or abused children seeking legal status in the U.S.
Under faculty supervision, student attorneys not only develop their substantive knowledge of immigration law and human rights laws and norms, but they also build core legal skills relevant to the general practice of law. Clinical work for students includes: interviewing clients and witnesses and preparing testimony, working with interpreters and translators, conducting factual and legal investigation and marshaling of evidence, analyzing and presenting human rights documentation, developing case strategies, writing legal briefs, and appearing in administrative hearings. Students also have opportunities to collaborate with local nonprofit organizations and community groups on a range of advocacy projects.
2019 Student Impact Summit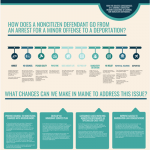 On March 14, 2019, Emily Arvizu '20 presented on her project, "The Right to Counsel for Noncitizen Misdemeanants," during Maine Law's annual Student Impact Summit. Noncitizen defendants with misdemeanor charges confront many challenges as they navigate the intersection of criminal and immigration laws. Despite facing the life-altering penalty of deportation, noncitizen defendants not sentenced to jail time are left without a right to counsel. Without counsel, these noncitizens are often unaware of the immigration consequences of their convictions. Maine can take a number of steps to protect the rights of its noncitizen defendants. A video of her presentation is available on Maine Law's YouTube channel.
---
Greater Good Podcast
Learn more about the work of the Refugee and Human Rights Clinic in these two Greater Good Podcast episodes which discuss how the process of seeking asylum in the U.S. has changed over time and the global issues impacting the current immigration system.
Carrie Wilshusen, Associate Dean for Admissions at Maine Law, is the host of the Greater Good Podcast which is devoted to covering complex and emerging issues in law, business, and policy.