For the past 50 years, the Cumberland Legal Aid Clinic has been the place where University of Maine School of Law students learn essential lawyering skills while making a positive change in their communities and in the lives of scores of clients. The Clinic's student attorneys learn how to practice law through real-life work representing more than 600 clients annually. To further support the work of the Clinic and its student attorneys, and in honor of its 50 year history, Maine Law has launched a campaign to establish a new fund, the Clinic Summer Intern Fund.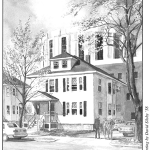 The Clinic was established in 1970, and it is one of the oldest clinics of its kind in the nation. The mission of the Clinic is two-fold: providing Maine Law students an intensive, experiential learning opportunity while delivering critically-needed free legal aid to Maine residents. All legal services are provided by law students who are enrolled in one of four clinical courses: General Practice, Prisoner Assistance, Juvenile Justice, and Refugee and Human Rights. Students in these courses also participate in the Clinic's Protection from Abuse program, in which student attorneys assist victims of domestic violence, sexual assault, and stalking seeking civil protection orders. Annually, nearly 14,000 hours of collective pro bono service is provided by law students to Mainers who otherwise would go without legal representation.
"I am so proud of the work that the Clinic has done for decades," said Dean Leigh I. Saufley. "In the Maine courts, before coming to the Law School, I observed that the Clinic students were always well-prepared, knew how to combine civility with solid advocacy, and knew how to put their clients first.  The experiential learning provided through the Clinic prepares Maine Law students for the challenges of the real world of practice, and the excellent professors in the Clinic provide wonderful role models for promising new lawyers. Fifty years of advocacy and excellence is an extraordinary legacy."
To celebrate the Clinic's 50th Anniversary, Maine Law has set a goal to raise $100,000 to establish a new fund, the Clinic Summer Intern Fund. This fund will support the Clinic's highly-regarded Summer Intern Program, which selects seven Maine Law students every year to work full-time as student attorneys throughout the summer. This program is crucial to ensure that the Clinic can provide free legal aid year-round. This new fund will be endowed to support the Clinic's ability to employ and pay stipends to the Clinic Summer Interns for years to come. To date, over $40,000 has been raised to support this new initiative.
"Without the tireless work and compassion of our student attorneys, most of the Clinic's clients would likely go without legal representation in matters that have significant consequences," said Associate Dean Deirdre Smith, managing director of the Cumberland Legal Aid Clinic. "As we know, the negative experiences and outcomes for unrepresented litigants are devastating, not only for the individuals involved, but for their families and for Maine as a whole. Student attorneys give their clients a voice, an advocate, and a fair shot at justice."
To make a gift to support student attorneys in the Cumberland Legal Aid Clinic please visit: mainelawcommunity.org/support-clac. The Law School hopes to host a virtual 50th Anniversary Celebration in honor of the Cumberland Legal Aid Clinic in 2021.