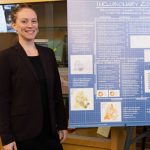 Allison Kuhns, a second year student at the University of Maine School of Law, has been awarded the 2019 Shur-Frinsko Award for Municipal Law and Local Government.
The Award goes annually to a Maine Law student, who has demonstrated academic excellence and accomplishment in the areas of municipal law, land use, or local governance, with a commitment to and capacity for further contribution to the field. It was established in 2005 with core support from the law firm of Bernstein, Shur, Sawyer and Nelson, the family of the late Barnett I. Shur, and the Nelson & Small corporate family. The award honors Barnett I. Shur and F. Paul Frinsko, in recognition of their achievements in the practice of law and their leadership in municipal law.
Allison received her B.A. in History from Gordon College in 2009, minoring in Classics and German. She received an M.A. in Greek and Roman Archaeology from Newcastle University (UK) in 2010 and has studied both anthropology and special education in the following years. At Maine Law, she has served as Staff Editor on the Ocean and Coastal Law Journal, Policy Liaison for the Juvenile Law Society, student representative to the Wellness Committee, and competed in the 2019 John J. Gibbons Moot Court Competition. She also recently presented at Maine Law's 2019 Student Impact Summit on "Inclusionary Zoning in Portland."
Allison is a Maine native with interests in the intersection of public interest law with local government and land use. This summer she will be a student attorney at the Cumberland Legal Aid Clinic.