The University of Maine School of Law holds an annual Student Impact Summit to celebrate the significant and positive impact of student research on communities inside and outside of Maine. Participating students design academic posters and provide brief presentations on their experiential learning projects, research papers, books, or internships. The Summit was established in 2015.
The 2020 Student Impact Summit was cancelled due to COVID-19.  We look forward to hosting the 2023 Student Impact Summit in our new building at 300 Fore Street.
2019 Student Impact Summit
The Law School held the fourth annual Student Impact Summit on March 14, 2019. The following students participated in the event: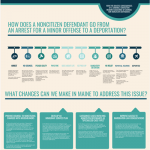 Emily Arvizu
"The Right to Counsel for Noncitizen Misdemeanants"
Noncitizen defendants with misdemeanor charges confront many challenges as they navigate the intersection of criminal and immigration laws. Despite facing the life-altering penalty of deportation, noncitizen defendants not sentenced to jail time are left without a right to counsel. Without counsel, these noncitizens are often unaware of the immigration consequences of their convictions. Maine can take a number of steps to protect the rights of its noncitizen defendants.
View a video of Emily's presentation.
---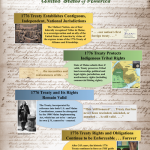 Henry Bear
"The Continuing Impact in Maine of the 1776 Treaty of Alliance and Friendship Between Wabanaki and the U.S."
The long history of legal rights to Maliseet Tribal lands and the rights to hunt and fish are as critical to the economic self-sufficiency, self-governance, and culture of the Maliseet Nation as the air that we breathe. Maliseets have consistently retained these rights unimpeded. The current controversy over fishing in coastal Maine waters is based on a misunderstanding of applicable Treaty law and Maine's reliance on an invalid state law.
View a video of Henry's presentation.
---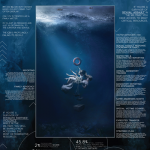 Emily Bienek
"Drowning: How the USCG Addresses Only Part of the Gender-Based Violence Problem"
Gender-based violence includes both Sexual Assault (SA) and Intimate Partner Violence (IPV). The U.S. Coast Guard (USCG) has a program aimed at SA prevention, response, and recovery, but survivors of IPV cannot access the same resources. This project reveals the inadequate attention given to IPV in USCG, and uses statistics to argue that the prevention and response programs should be the same for both forms of gender-based violence.
View a video of Emily's presentation.
---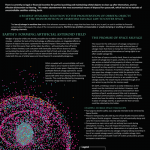 Sara Feldman
"Policy Incentives for Expansion of Maritime Salvage Law to Outer Space"
A major purpose of maritime salvage law is to provide an incentive to retrieve distressed vessels before they can cause further damage to other vessels and to navigable waters. This purpose is needed as much in orbit around Earth as on its seas, however, current space law has no salvage provisions. Expanding salvage law from the seas to space will help preserve the safety of orbits.
View a video of Sara's presentation.
---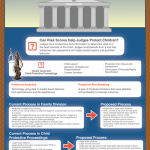 Meredith Harrell
"Predictive Analytics in Maine's Family Division and Child Protective Proceedings"
Predictive Risk Modeling uses data patterns to identify predictors of risk and assign risk categories to individuals or groups. Judges in family court and child protective proceedings evaluate huge amounts of information in determining what is in the best interests of a child. What if there were a tool that enhanced their ability to assess risk and predict parties' behavior?
View a video of Meredith's presentation.
---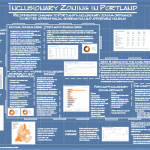 Allison Kuhns
"Inclusionary Zoning in Portland"
By making small changes to its inclusionary zoning ordinance, Portland can make progress on its affordable housing crisis and increase racial and socio-economic integration. The ordinance contains an in-lieu fees option that allows developers to pay a fee rather than build affordable units. If the city removes this option, more affordable units will be built, the housing crisis will be lessened, and racial and socio-economic integration will increase.
View a video of Allison's presentation.
---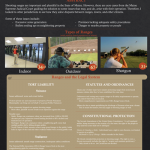 Mitchel Roberge
"Shooting Ranges in Maine: Civil Issues and Solutions"
This project highlights some of the major potential issues a shooting range could face. Using case law from other states, existing Maine tort precedent, some Maine statutes, and the constitutions of Maine and the United States, it is possible to analyze how these issues may be decided if they were heard by a Maine court.
View a video of Mitchel's presentation.
---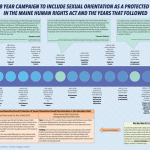 Anne Sedlack
"The 28 Year Campaign to Include Sexual Orientation as a Protected Class in the Maine Human Rights Act and the Years that Followed"
It took over 28 years to include sexual orientation as a protected class in the Maine Human Rights Act. The many attempts were blocked by failed votes in the legislature, a governor's veto, and variations of the people's veto. After the successful addition, the executive and judicial branches have worked to clarify and enforce the statute so that all of Maine can understand their rights.
View a video of Anne's presentation.
---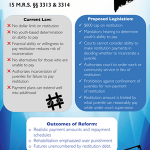 Whitney Lallas and Reginald Parson
"Juvenile Justice Reform: Restitution Reconsidered"
When determining a disposition for juveniles, the court has the option to order a juvenile to pay restitution. However, juveniles face a number of challenges that prevent them from satisfying their restitution obligation. In light of these challenges, we have submitted a bill to the Maine Legislature, with the hopes of providing better outcomes for system-involved youth.
View a video of their presentation.
---
Juvenile Justice Reform: Restitution Reconsidered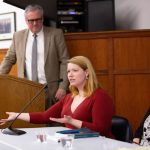 The student poster presentations were followed by a panel presentation on "Juvenile Justice Reform: Restitution Reconsidered." Juvenile Justice advocates are currently taking a hard look at restitution laws. It is a complicated issue because, though restitution may compensate victims for their losses, it may also sabotage the future of system-involved youth. Even more problematic, ordering a youth to pay significant restitution may deepen the unequal treatment between children who have grown up with adequate resources and children who have grown up in poverty. This panel debated the appropriate balance between accountability, compensation, and compassion, and also discussed Maine's current juvenile restitution statutes from various perspectives.