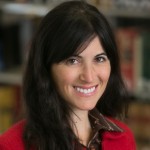 Associate Dean Sarah Schindler's recent law review article, "The 'Publicization' of Private Space" (103 Iowa L. Rev. 1093 (2018)), was selected as one of the four best land use articles of the year. It will be republished in the 2019-2020 edition of the Land Use and Environment Law Review, an annual, peer-selected compendium of the ten best land use and environmental law articles of the year. This is Associate Dean Schindler's fourth article to receive this honor.
Articles are selected for inclusion in the Land Use and Environment Law Review after a panel of land use and environmental law faculty from across the nation narrow approximately 100 articles down to 20 finalists.  From that group of finalists another panel of legal scholars selects the final few land use articles for republication in the Review. Thomson Reuters, the Review's publisher, describes the anthology as a collection of "the most insightful thinking on a wide range of current and emerging land use and development issues."
Sarah Schindler is the Associate Dean for Research and the Edward S. Godfrey Professor of Law at the University of Maine School of Law. She is nationally recognized for her scholarship, which focuses on property, land use, local government, and sustainable development.