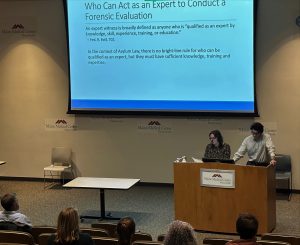 Abdulkareem Omer and Rachel Bruns, two student attorneys from Maine Law's Refugee and Human Rights Clinic (RHRC), spoke at a symposium at Maine Medical Center's Dana Center Auditorium on Tuesday, March 28 about the pressing need for collaboration between medical professionals and attorneys in asylum law. Omer and Bruns presented alongside two doctors with extensive experience conducting forensic medical evaluations for asylum seekers, Dr. Mary H. White, a physician specializing in internal medicine and trainer at the Human Rights Clinic of the Icahn School of Medicine, and Dr. Charles Mitchell, a Tufts University clinical faculty member and resident supervisor at Maine Medical Center's Psychiatry Residency Program.
Founded and directed by Clinical Professor Anna Welch, the RHRC operates within Maine Law's Cumberland Legal Aid Clinic providing free legal representation for low-income immigrants of varied backgrounds and countries of origin, including asylum applicants who fled human rights abuses in their home countries.
Along with other RHRC student attorneys, Omer and Bruns work under the supervision of experienced attorneys and represent asylum applicants. To avoid deportation, asylum seekers must navigate a complicated legal process and prove that they experienced persecution or had a well-founded fear of persecution in the country they left.
During the symposium, which was organized by the Tufts Human Rights Initiative and the Tufts University School of Medicine, Omer and Bruns spoke about asylum law, the application process, and the role of forensic medical evaluations in asylum law. They discussed how there is a need for more medical professionals to offer low-cost and pro bono evaluations to asylum seekers. Without these evaluations, Omer and Bruns shared that it can be very challenging for asylum applicants to prove that they experienced physical assault, torture, psychological trauma, or other types of abuse in their home country.
"There are approximately 8,000 to 10,000 asylum seekers in Maine with ongoing immigration cases. There is no doubt that we need more lawyers in asylum law, but often we cannot build credible cases without medical professionals stepping up to do medical evaluations," said Bruns. "To improve Maine's asylum seekers' access to justice, we need both lawyers and doctors involved with this work."
Omer and Bruns also shared research about how a medical or psychological evaluation can significantly improve the likelihood of an applicant's case being successful. They referenced a study of asylum applications between 2008-2018 which found that 81.6% of applicants who were represented and had a medical evaluation in their application had successful cases, compared to the national asylum grant rate of 42.4% during the same time period.
"When a medical professional makes themselves available to provide forensic evaluations for an asylum seeker, their asylum case is far more likely to be deemed credible," said Omer. "This can make the difference in whether or not they are deported to a country where they could face persecution. I am grateful that there are more medical professionals getting involved in this work."
"I am so proud that our student attorneys are becoming leaders on this issue," said Erica Schair-Cardona, the Outreach and Advocacy Attorney at the Refugee and Human Rights Clinic. "In order to address the needs of asylum seekers in Maine, we need collaboration between the legal and medical professions. This symposium was an opportunity for law students and medical students to build that foundation for the future, which I believe will improve services for asylum seekers in the years to come."