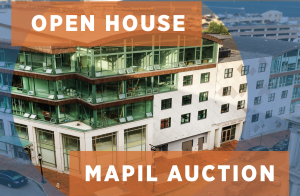 The Maine Association for Public Interest Law (MAPIL) is a student-led organization at the University of Maine School of Law that encourages student engagement in legal volunteer opportunities, public interest careers, and pro bono work.
MAPIL hosts relevant events throughout the year, including lectures from local attorneys, student panels, and talks by current students and alumni. The group also funds fellowships for Maine Law students who accept unpaid positions in legal public service over summers. This allows these students to obtain valuable experience in public interest law they might not otherwise be able to access.
The MAPIL fellowships are funded in large part by the organization's Annual MAPIL Auction, which will take place this year on March 30 at 300 Fore Street in downtown Portland. The event will kick off with a silent auction from 4:00-6:00 pm, followed by a live auction from 6:30-8:00 pm. This will mark the 35th MAPIL auction. Last year's auction raised over $15,000 for Maine Law fellowships. An online auction will be held from March 27 – 29, which allows Maine Law community members unable to attend the in-person event to participate in the fundraising efforts. An open house for alumni will also be held in conjunction with the silent auction on the 30th from 4:00 – 6:00 pm.
"Without MAPIL funding, only those students who could afford to work without pay for the summer could take advantage of these opportunities. By providing this funding, MAPIL seeks to bridge this equity gap and ensure that these opportunities are available to everyone," Ali Brauner, 3L and MAPIL member, said.
Items in the upcoming auctions will include:
A two-night stay for two at the Harraseeket Inn;
A two-night stay at a cabin in Tenant's Harbor;
A family or maternity photoshoot with ten prints;
A bottle of Taylor Barrell Whiskey;,/li>
One-night stay at Maine Forest Yurts, and much more!
Register to attend the live auction or the alumni open house: https://securelb.imodules.com/s/184/16/interior.aspx?sid=184&gid=1&pgid=1539&cid=2550