FORT KENT, ME — The University of Maine School of Law's Rural Practice Clinic (RPC) launched in January 2023 on the University of Maine Fort Kent (UMFK) campus. The pilot legal aid clinic brings legal representation and resources to Aroostook County communities, which have historically been underserved while also developing Maine's future rural attorney workforce.
On Friday, April 28 the RPC celebrated its inaugural semester with a ribbon cutting in Fort Kent. Several key players spoke at the opening, including Maine Law Dean and President Leigh Saufley; law students currently working in the clinic; University of Maine System and UMFK leaders; and our partners, including Senate President Troy Jackson, who sponsored the bipartisan legislation that established the pilot clinic.
A majority of the state – 60% – lives rurally while a majority of law firms cluster around urban centers like Cumberland County. This program seeks to shift that balance and develop in Maine Law students the unique skill set necessary to practice law in rural communities.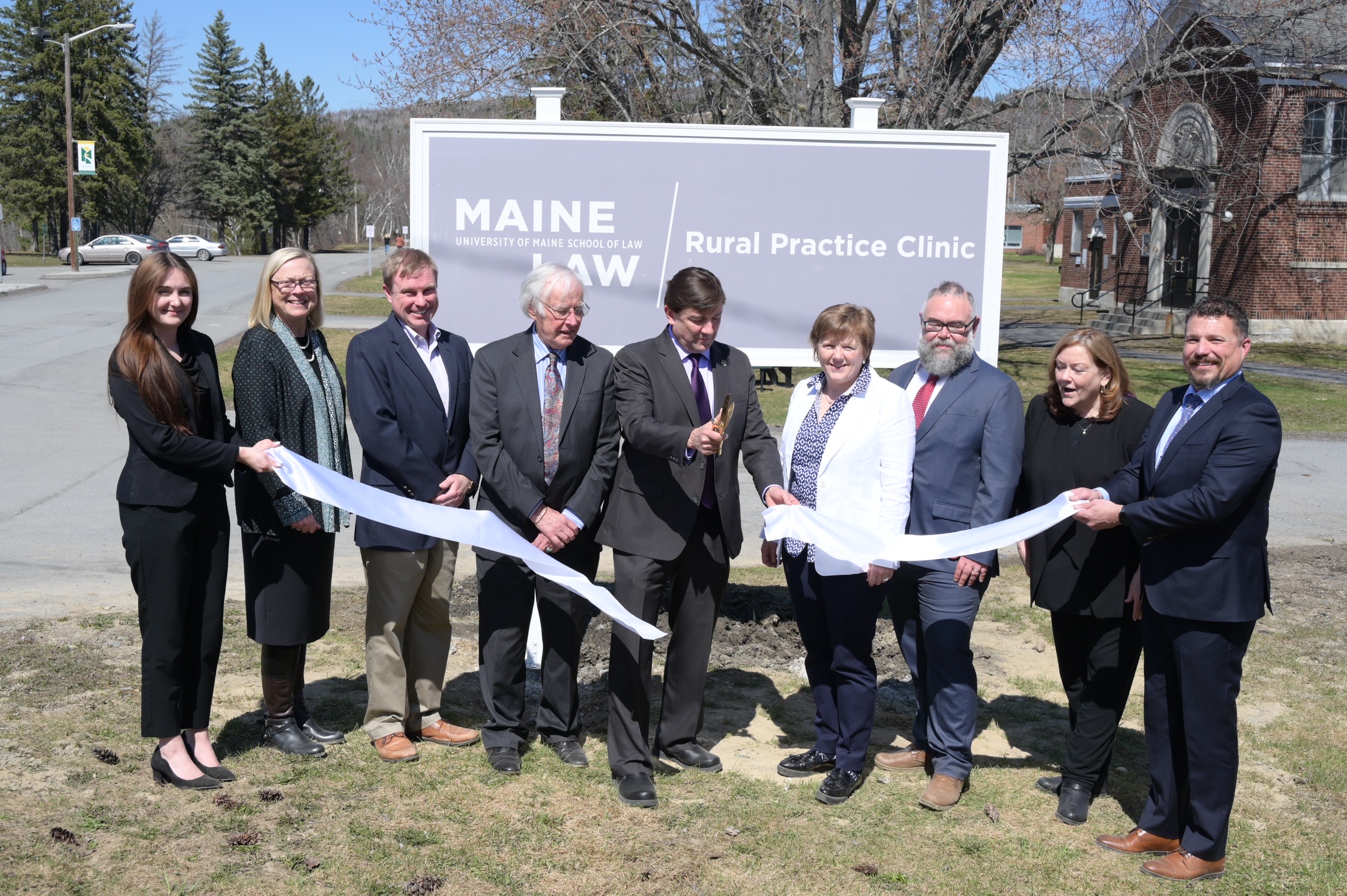 "The establishment of this clinic meets a pressing need in our state," Saufley said. "In addition to being one of only a few rural clinics in the country, the RPC is also a testament to the collaborative potential within the UMaine System and the role the system plays in meeting the needs of our state and its communities."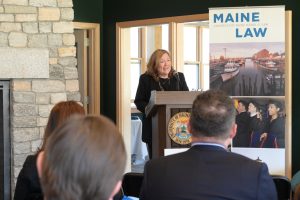 The RPC exists under the wing of Maine Law's Cumberland Legal Aid Clinic, where clients are represented by "student attorneys," law students specially licensed by the state and federal courts to provide legal services to low-income clients. The student attorneys practice under the supervision of fully-licensed attorney faculty members. Maine Law estimates that student attorneys provide 14,000 hours of pro bono legal aid to Mainers in need annually.
"The Cumberland Legal Aid Clinic has served low-income Mainers for years, from those in refugee communities through our Refugee and Human Rights Clinic to incarcerated individuals without access to legal representation through our Prisoner Assistance Clinic. Maine Law is committed to advancing justice through our state and nation, and the Rural Practice Clinic is another piece of the puzzle helping us achieve that goal," Christopher Northrop, Managing Director of the Cumberland Legal Aid Clinic, said.
The pilot clinic was made possible with the support of the 130th Maine Legislature and two years of start-up funding provided through the Office of the Maine Attorney General.
Emma Pooler, a third-year Maine Law student, one of the clinic's two student attorneys, and a Fort Kent native, said she gained an immense amount of knowledge and practical skills during her semester as a student attorney with the RPC. She looks forward to putting all she's learned into practice when she graduates this May.
"When you're working in rural law you must be a jack of all trades. In the clinic, so far, I've done debt collection work, estate law, criminal defense, divorce litigation, and probate work," Pooler explained. "It also can mean helping your former babysitter resolve a traffic ticket."