When Professor Kaitlin Caruso began teaching civil procedure, local government, and civil rights litigation at Maine Law, it didn't feel like a new career direction so much as a return to the fold.
"I'd always said if I got the chance to teach local government at Maine Law I'd jump on it," Caruso reflected. "And then the opportunity actually arose."
Caruso, who began as a visiting professor at Maine Law in 2021 and was hired for a tenure track position in January 2023, has a rich personal history at Maine Law. Her parents met at the school when they were both students and her mother worked as an adjunct professor for several years.
"I grew up here in Portland, and Maine Law has always been in my life," Caruso said. But returning to Maine Law wasn't always the plan, especially since when Caruso left the state for her education it wasn't with the intention of becoming a lawyer at all. She attended Northwestern University where she studied psychology and English. She felt drawn to the problem-solving nature of science but wanted a profession that worked more with people and less with microscopes.
"My brain loves a puzzle," Caruso said. "The process of identifying a problem and then figuring out what I need to do to solve it, that makes my brain sing."
It is this affinity for analytical thinking and aversion to late nights alone in a lab that led Caruso to Yale Law School in 2007. In law school Caruso developed an interest in civil rights litigation and local government law through her work with what came to be  a clinical program known as The San Francisco Affirmative Litigation Project. Although based in New Haven, CT, the program worked on civil rights and consumer protection issues with the City Attorney of San Francisco, CA.
"We were a standing army for civil rights  and consumer issues," Caruso recalled. "I felt that I had no real business as a law student working on something as major as the Prop 8 case – the 2008 case challenging California's constitutional ban on same-sex marriages – but there I was. How do you not fall in love with the work when that's what you get to do?"
From Yale and the clinic, Caruso went on to clerk for U.S. District Judge Harry Leinenweber and later First Circuit Court of Appeals Judge William Kayatta, Jr.. From there, Caruso worked as counsel for the New York City Council, the New York City Law Department, and, most recently, as the Acting Director of the New Jersey Division of Consumer Affairs.
It was in these roles that Caruso flexed her capacity for innovative problem-solving, working in areas of consumer protection and civil litigation that ranged from investigating predatory student loan practices to advising on local labor laws. While Caruso deeply enjoyed this work, she said when the Maine Law opportunity presented itself, she couldn't turn it down.
Caruso said it's not only the beautiful state, and not only the teaching job but the particular kind of student Maine Law attracts and the culture at the law school, that beckoned her back.
"Students at Maine Law don't always come in with a specific end goal in mind, but they do come here because they want to interact with the world in a particular way," Caruso said. "They know they want to change it for the better, and this place helps them do that. We're not just helping students fill in the right bubbles on the Bar Exam, we're giving them the tools to effect change in the ways they choose. That's powerful."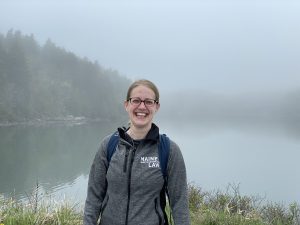 In her classroom, Caruso strikes a balance between preparing students to check off the necessary milestones in becoming a lawyer while refining their creative and analytical thinking skills.
"I'm trying to give them this giant toolbox, all things you need to know, but also trying to demonstrate there often isn't one right answer," she continued. "You can make a decision six different ways, but you have to understand all the pieces going into that decision and all the possible outcomes in order to make the best choice with  your client."
Caruso's only point of hesitation in accepting a full-time teaching position was the worry that she'd have to sacrifice her ability to apply and affect the law outside of academia.  At Maine Law, however, she doesn't have to make this sacrifice. In addition to helping students achieve their goals, Caruso said she is encouraged and expected to engage with legal matters in the outside world, continuing her legal scholarship and advocacy. For example, recently  Caruso has been working on a project with lawyers and professors around the country addressing emerging issues in consumer protection law at the state and federal level. 
"Something that drew me here was knowing how engaged faculty are with issues in the state and the country. It doesn't feel like an no ivory tower at Maine Law," Caruso said. "I've always wanted to do the work I love in a place I love. What could be better than that?"