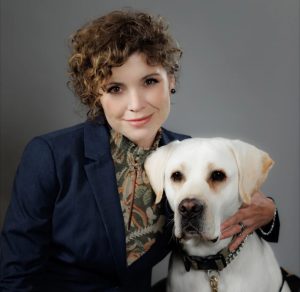 "Flying turns down the volume," 1L Emily Elmore said. "You're in this high-stakes, low-fail environment; it's totally absorbing, and everything else melts away. For me, it's a space that's very Zen. I feel free but totally focused." 
This is the kind of focus former Air Force pilot Elmore brings to everything in her life, including her law school career.
Before she was a Maine Law student, Elmore served for nine years as an Air Force Pilot before she lost functional use of her right arm and was medically retired. As a combat pilot, Elmore served in Iraq and Afghanistan and has been to every continent except Antarctica. Her work ranged from "trash hauling" (moving around materials) to drug interdiction and humanitarian aid.
"I have so many good stories and memories," Elmore recalled. "A favorite is a flight I took in Africa. The continent is really dark; it's like you're flying through ink. Then the sun rises and it's like a kaleidoscope, you become part of the sunrise." 
Elmore's passion for flying and her time in the service is evident as is her commitment to her newfound career. When she was medically retired, she started her own business, pivoting to work with tech startups and applying technical analysis to their marketing strategies. As Elmore waded into the weeds of data collection and analysis she began running up against questions regarding ethics and compliance. At one point, she even became involved in litigation regarding these issues and found there aren't many legal resources for smaller companies with questions about data compliance.
"What I discovered is that the larger, established tech companies largely set the normative standards the industry operates by," she continued. "This model doesn't protect smaller innovators, workers, or the public." 
These are the issues that drove Elmore to pursue a J.D. specifically at Maine Law where she can study the intersection of the law, data compliance, and the environment (a space many tech startups impact). And as she pursues her degree, Elmore said she is well served by the skills she developed as a pilot. 
"As a pilot, I had to comply with tons of regulations, from rules of combat to international flight standards. Sometimes they work together and sometimes they conflict. If you can't comply, you have to know when and how to make that call. This helps me ascertain and apply laws and rules in a legal setting, almost like creating a mental flow chart," Elmore explained.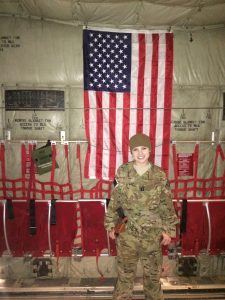 "I also think, and this I've seen across the board for veterans, my service gave me a great ability to prioritize and manage tasks. I have a family, a long commute, and my business still has clients. Working as efficiently as possible is essential."  
And Elmore's final secret to excelling in law school? Her service dog Louis who is always at her side, opening doors, holding her bag, keeping a close eye on his veteran, and even fetching her books. Elmore said she and Louis have found a vibrant and welcoming community at Maine Law that only enhances her experience and education.
"One thing about the Air Force is you meet lots of different people and there's a very strong sense of community," Elmore added. "I've found that here too."