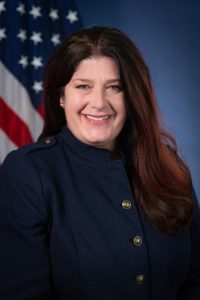 PRESS RELEASE
PORTLAND, ME — Darcie McElwee, U.S. Attorney for the District of Maine, has been appointed by Attorney General Merrick B. Garland to serve on the twelve-person Advisory Committee of U.S. Attorneys. The appointment was announced on Wednesday, March 30.
McElwee graduated from the University of Maine School of Law in 1998 and began her career as an Assistant District Attorney for the counties of Penobscot and Piscataquis. She has served as an adjunct professor at Maine Law, instructing students in advanced trial advocacy. McElwee was confirmed as U.S. Attorney for the District of Maine by the Senate in October 2021. Prior to her appointment as U.S Attorney, McElwee served as an Assistant U.S. Attorney in the U.S. Attorney's Office for the District of Maine where she prosecuted violent crimes like sex trafficking, domestic violence, firearms offenses, and child exploitation. Since 2005 McElwee has also been the coordinator of Project Safe Neighborhoods.
"Darcie's appointment to this national level Advisory Committee to the United States Attorney General is consistent with her years at Maine Law and her career to date, and we are immensely proud of that work," Maine Law Dean Leigh Saufley said. "The focus of her career has always been to create a safer state for all Mainers, and this appointment is a recognition of the insights, experience, and unwavering commitment to law and order she has to offer."
As one of twelve U.S. Attorneys appointed to serve on the committee, McElwee will advise the Attorney General on issues of policy, procedure, and management. The first meeting of the committee will take place later this spring.
"These United States Attorneys will represent the views of dedicated federal prosecutors across the country and provide advice and insight into essential matters facing the Department," said Attorney General Garland. "I look forward to working alongside them in carrying out the Department's core priorities of upholding the rule of law, keeping our country safe, and protecting civil rights."
For further information please contact Emma Ea Ambrose, emma.ambrose@maine.edu, 207-577-3244.