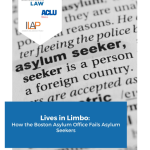 The University of Maine School of Law Refugee and Human Rights Clinic (RHRC) recently received the 2022 Clinical Legal Education Association (CLEA) Award for Excellence in a Public Interest Case or Project. This honor was conferred in recognition of the clinic's multi-year investigation into concerning practices of the U.S. Citizenship and Immigration Service's (USCIS) Boston Asylum Office (BAO). The report, Lives in Limbo: How the Boston Asylum Office Fails Asylum Seekers, was published in partnership with the ACLU of Maine, the Immigrant Legal Advocacy Project (ILAP) and Dr. Basileus Zeno.
Lives in Limbo examines why the rate of approvals for asylum seekers at the BAO plummeted in 2015 to 15 percent, well below the national average of 28 percent. Maine Law students, under the leadership of clinical professor Anna Welch and adjunct professor Erica Schair-Cardona, investigated and exposed systemic problems confounding the application process for asylum seekers at this office. These issues include but are not limited to, a pervasive culture of distrust of asylum seekers, pressure on officers to write decisions that correspond to their supervisors' viewpoints, unrealistic workloads and timelines, a high level of burnout and compassion fatigue, and shortcuts that violate asylum seekers' right to due process.
The report's potential to curb discriminatory and unlawful practices at the BAO and beyond is profound and already bearing out.
"Litigators in immigration courts are already using the report to address due process issues," Welch said. "Just next week we plan to argue before an immigration judge at the Boston Immigration Court that, in light of our findings, the Boston Asylum Office's asylum assessments are unreliable documents in light of bias and other due process concerns. This is a tool that can be used by lawyers across the country and one that, we hope, will aid in helping to level the playing field for asylum seekers as we seek to establish a more unbiased process."
Maine Law students, Welch added, were the central driver behind the report and were responsible for conducting hours of interviews of asylum seekers, asylum attorneys, and asylum officers, analyzing data and documents, and drafting of the initial FOIA request. By the end of the project, students had scrutinized and organized thousands of pages of documentation.
"Researching, drafting, and publishing Lives in Limbo was an extremely rewarding experience," Emily Gorrivan, one of the several students involved in compiling the report, said. "RHRC provided the unique opportunity to engage in impactful advocacy as a student. This project, and all of my work in RHRC, has encouraged me to pursue a career in immigration law and has given me the skill set to do so."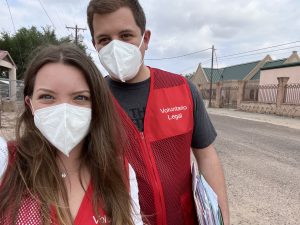 This kind of student experience is one of many exceptional facets of a Maine Law education, Dean Leigh Saufley reflected.
"Maine Law prides itself on facilitating opportunities for students to practice law through the clinics. Not only does it give them a step-up when entering the job market, but it provides students a candid look at the challenges and rewards of the legal profession. Everyone involved in the publication of this report should take immense pride in the impact it will and is already having."
The Maine Law students involved in the Lives in Limbo report are: Emily Gorrivan ('22), Grady Hogan ('22), Jamie Nohr ('23), Camrin Rivera ('22), Aisha Simon ('23), Rezvaneh Ganji ('21), Sander Goldthwait ('21), Angela Hlavnicka ('19), Emily Arvizu ('20), Anne Sedlack ('20), Landon Thaxter ('20), Chelsey Marto ('19), Oliver Walton ('19), and Hannah Wurgaft ('19), as well as RHRC law student volunteers Adam Fisher and Alex Beach.