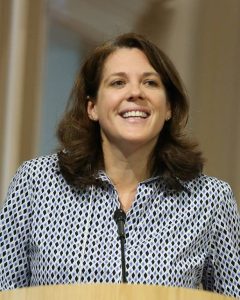 PORTLAND, ME — The United States Department of Justice's Office of Juvenile Justice and Delinquency Prevention (OJJDP) recently announced the expert appointment of Jill Ward as a senior policy advisor in the Office of the Administrator.
In this part-time role, Ward, director of the University of Maine School of Law's Center for Youth Policy and Law and an adjunct professor, will be providing policy guidance to the OJJDP, including developing new regulations to assist state implementation of the reauthorized federal Juvenile Justice and Delinquency Prevention Act (JJDPA).
In her role as director, Ward works with students and faculty at the Cumberland Legal Aid Clinic on improving outcomes for young people who have been involved with the criminal justice system. As a professor, she teaches courses on juvenile law, policy change, and social justice reform.
"Professor Ward's policy expertise and experience leading youth justice reform efforts have made her an invaluable resource to our students and the work they do with system-involved youth in Maine," said Christopher Northrop, professor at Maine Law and co-director of the Cumberland Legal Aid Clinic. "We are proud that Jill will bring these skills to the federal government and give Maine Law students an opportunity to get an inside view of youth policy work at the highest level."
Ward has been recognized nationally for her work on youth justice reform and has been actively involved in reform efforts in Maine. She recently served as one of three co-chairs of a statewide juvenile justice task force, as chair of Maine's Juvenile Justice Advisory Group, and currently serves as a partner in the collaborative Regional Care Team initiative with the Department of Corrections and the Cutler Institute at the University of Southern Maine. The Center for Children's Law and Policy gave Ward the ARC Award in 2021 in recognition of her leadership as an advocate for youth and a champion of equitable and effective reform. Prior to her time at Maine Law, she worked on youth justice issues with numerous state and national organizations, including the Maine Children's Alliance, the Children's Defense Fund, the Girls Scouts of the USA, the Campaign for Youth Justice, and the Youth First Initiative.