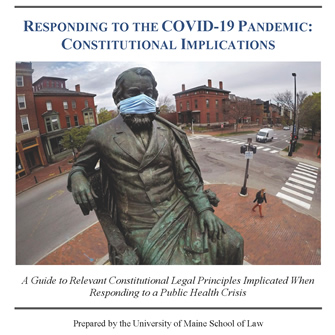 Maine Law students Adam Mooney '22 and Richard Qualey '22 spent their summer researching and writing a guide analyzing the constitutional implications of COVID-19 related government actions. The guide, titled Responding to the COVID-19 Pandemic: Constitutional Implications – A Guide to Relevant Constitutional Legal Principles Implicated When Responding to a Public Health Crisis, provides an in-depth look at how government restrictions implemented to control the spread of COVID-19 may trigger a range of constitutional challenges. The analysis provided is intended to be a guide for all citizens—with a Maine-specific focus—including legislators, governors, and lawyers and non-lawyers alike.
Vice Dean Dmitry Bam and Professor of Practice Jeff Thaler worked closely with Adam and Richard on this critical project. The funding for the project was provided by the Maine Economic Improvement Fund (MEIF) .
"Adam and Richard worked diligently all summer on this guide," said Professor Jeff Thaler. "In the months ahead this guide will become even more useful for local, state, and federal officials in Maine as we continue to deal with the impacts of COVID-19. We are grateful to Ross Hickey of USM's Maine Regulatory Training and Ethics Center (MeRTEC) for his help in securing funding for the student's efforts."
MeRTEC also partners with Maine Law on the Compliance Certificate Program and other compliance related initiatives.
The topics specifically discussed in the fifty-page guide include: substantive and procedural due process issues (such as the right to vote and the right to travel); rights infringed by restrictions on business operations (such as the Dormant Commerce Clause and Fifth Amendment Takings); and the right to the free exercise of religion and how it has been impacted by restrictions on gathering sizes.
"It has been many years since our country, and indeed the world, has experienced a public health crisis such as the one now presented by the COVID-19 pandemic," said Richard and Adam in a joint statement. "In such times, we must all do our part to help and to protect one another. This guide is part of our efforts, and we hope that it will help all Maine residents better understand their rights, as well as the government actions that can be taken in order to protect us all."
Responding to the COVID-19 Pandemic: Constitutional Implications can be downloaded on the Maine Law website.