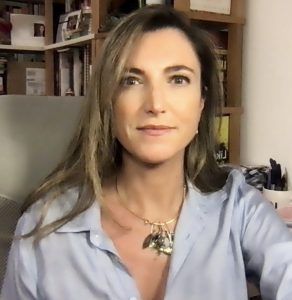 The battlefields of Afghanistan, the 9/11 attacks on New York, Sierra Leone's 2014 Ebola epidemic, unrest in Syria, Libya, and Turkey – Brazilian journalist Patrícia Campos Mello witnessed and reported through it all. As a reporter for the Brazilian newspaper Folha de São Paulo, Mello's work has taken her around the world to no less than 50 countries, and in April, it will bring her to Portland, Maine.
Mello will deliver the Maine Law 2023 Justice for Women Lecture on April 26 at 7 pm in Hannaford Hall. She will present her talk Sexism, Lies and the Fight for the Truth: A Reporter's Story.
A major 2019 expose by Mello examined the exploitation of the mass communications app WhatsApp and the spread of disinformation in Brazil's 2018 presidential campaign. Through years of investigative reporting, Mello demonstrated that the winner of the election, Jair Bolsonaro, benefited from the illegal promotion of false information using the app. This work later made Mello the subject of online attacks and fabricated claims from Bolsonaro himself. Most recently, Mello continued reporting about misinformation in her home country, but as it related to the COVID-19 Pandemic.
Mello received a series of prestigious awards for her tireless and fearless reporting, including the International Press Freedom Award of the Committee to Protect Journalists in 2019, the 2020 Columbia University Maria Moors Cabot Award, the Red Cross Prize for Humanitarian Journalism in 2017, and many more. In 2020, Mello authored the book "A máquina do ódio – Notas de uma repórter sobre fake news e violência digital," about disinformation campaigns by populist leaders in Brazil, India, and the US, intimidation of journalists led by the Bolsonaro administration, and the erosion of freedom of the press in Brazil. This is one of several books written by Mello about Brazilian politics and history. She is also currently a fellow with Columbia University's Tow Center for Digital Journalism.
Despite the personal attacks and security risk Mello faces, she said she can't imagine pursuing any other career she told WBUR in a 2022 interview. "It's the best job in the world. It still is. It's difficult. It's not well paid. But it's such a privilege to be able to listen to people's stories and to know what's happening and try to make a difference and tell stories."