The Justice For Women Lecture (JFW) Series brings a distinguished speaker to Maine annually to present a public lecture and to contribute to a global conversation about justice for women and girls in the developing world.
The Lecture Series was established in 2011 with the generous support and leadership of Catherine Lee of Lee International.
2022 Justice For Women Lecture:
The Struggle for a More Equal World – Why It's Essential and How We Can Win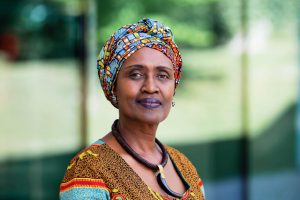 The eleventh annual Justice For Women Lecture, presented virtually on April 25, 2022, at 12:00 pm EDT. We welcomed Winnie Byanyima, UNAIDS Executive Director, who will present her lecture
The Struggle for a More Equal World – Why It's Essential and How We Can Win. The 2022 Justice for Women Lecture will be presented virtually via Zoom.
Download the virtual program.
Winnie Byanyima
Winnie Byanyima is the Executive Director of UNAIDS and an Under-Secretary-General of the United Nations. A passionate and longstanding champion of social justice and gender equality, Ms. Byanyima leads the United Nations' efforts to end the AIDS epidemic by 2030. Ms. Byanyima believes that health care is a human right and was an early champion of a People's Vaccine against the coronavirus that is available and free of charge to everyone, everywhere.
Before joining UNAIDS, Ms. Byanyima served as the Executive Director of Oxfam International, and was elected for three terms and served 11 years in the parliament of her country, Uganda. Ms. Byanyima led the establishment of the African Union Commission's Directorate of Gender and Development, served as Director of Gender and Development at the United Nations Development Programme, and founded the Forum for Women in Democracy.  A global leader on inequality, Ms. Byanyima has co-chaired the World Economic Forum and served on the World Bank's Advisory Council on Gender and Development, the International Labour Organization's Global Commission on the Future of Work and the Global Commission on Adaptation.
Ms. Byanyima is a recipient of several awards, including an honorary doctorate from the University of Manchester, United Kingdom, an honorary doctorate from Mount Saint Vincent University, Canada, and the 2018 Human Rights and Solidarity among Peoples Prize, awarded by the Latin American Council of Social Sciences. She holds a master of science degree in mechanical engineering from Cranfield University and an undergraduate degree in aeronautical engineering from the University of Manchester.
A video recording of this event is available on Maine Law's YouTube Channel.

View the digital program to find more information on the Lecture.
Video Project
Following the 2021 Justice For Women Lecture, 2L Sara Freshley was inspired to create a video called, "Indigenous Women are the Future," for her Arctic Law, Science, and Policy Class at the University of Maine School of Law. Her video focuses on the critical role indigenous women play in society and specifically in the climate movement. Sara's video can be watched on Maine Law's YouTube Channel.
Galina Angarova, Executive Director at Cultural Survival; Quannah ChasingHorse, Land Protector and Climate Activist; Sherri Mitchell,  Lawyer, Author, and Indigenous Rights Activist; Sara Olsvig, Ph.D. Fellow and Former MP of Greenland, 2021 "The Impact of Climate Change on Indigenous Women" [Video]
Maria Luisa Aguilar Rodriguez (Mexico), International Advocacy Officer at the Miguel Agustín Pro Juárez Human Rights Center (Centro Prodh)
2019, "The Human Rights Crisis in Mexico: Origins, Impacts, Opportunities" [Video]
Mariam Jalabi (Syria), Representative of the National Coalition for Syrian Revolutionary and Opposition Forces' Office at the United Nations in New York
2018, "The Struggle for Human Rights: From Syria" [Video]
Zainah Anwar (Malaysia), Director of Musawah and Founding Member and former Executive Director of Sisters Islam
2017, "What Islam, Whose Islam? The Struggle for Women's Right to Equality and Justice in Muslim Contexts" [Video]
Dr. Lindiwe Sibanda (Zimbabwe), CEO of FANRPAN
2016, "Overcoming Food Insecurity – Ideas & Inspirations from Zimbabwe to Maine" [Video]
Ruchira Gupta (India), Founder & President of Apne Aap Women Worldwide
2015, "Ending Sex Trafficking by Putting the Last Girl First" [Video]
Dr. Sima Samar (Afghanistan), Chair of the Afghanistan Independent Human Rights Commission
2014, "Women's Rights in Afghanistan" [Video]
Hon. Albie Sachs, former activist and lawyer (South Africa)
2013, "50 Years with Nelson Mandela: From Law Breaking to Law Making" (special lecturer)
Leymah Gbowee (Liberia), 2011 Nobel Peace Laureate, Author, and Liberian Peace Activist
2013, "The Rule of Law and Justice for Victims of Sexual Violence" [Video]
Hon. Unity Dow (Botswana), International Human Rights Advocate, Novelist, and Former Judge, Botswana High Court
2012, "Juggling Truths: When Justice is a Moving Target" [Video]
Courage is Contagious Award
The Courage is Contagious Award is awarded annually at the Justice For Women Lecture to an outstanding woman leader who demonstrates a commitment to the mission of the Justice For Women Lecture Series.
Learn More
Want to learn more about the Justice For Women Lecture? Check out this short video: