The Justice For Women Lecture (JFW) Series brings a distinguished speaker to Maine annually to present a public lecture and to contribute to a global conversation about justice for women and girls in the developing world.
The Lecture Series was established in 2011 with the generous support and leadership of Catherine Lee of Lee International.
2023 Justice For Women Lecture
Sexism, Lies and the Fight for Truth:
a Reporter's Story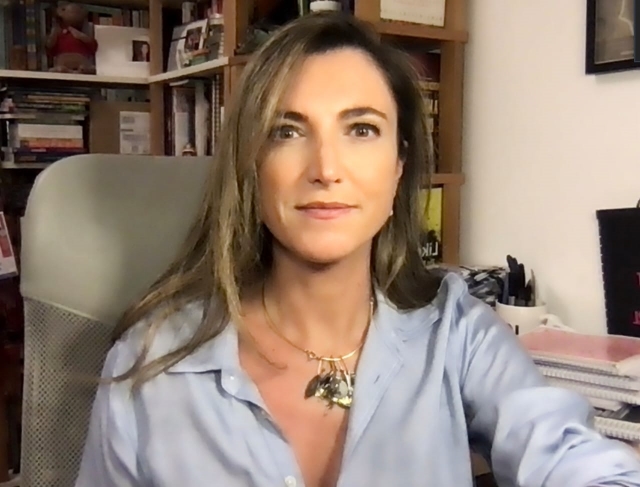 The twelfth annual Justice For Women Lecture was presented on April 26, 2023 at 7:00 pm in Hannaford Hall. We welcomed Patrícia Campos Mello, an editor-at-large at Folha de São Paulo newspaper, and an associate research scholar at Columbia University.
Watch JFW 2023:
Patricia Campos Mello
Patrícia Campos Mello is a reporter-at-large and columnist at Folha de São Paulo newspaper. For over 25 years, she has been covering international relations, economics and human rights, and has reported from over 50 countries. She was awarded the Columbia University Maria Moors Cabot award in 2020, the International Press Freedom Award of the Committee to Protect Journalists in 2019, the Vladimir Herzog Special Award for Democracy and Justice in 2019, the International Committee of the Red Cross Prize for Humanitarian Journalism in 2017, the King of Spain Journalism Prize in 2018, and the Petrobras Prize in 2017 and 2018 (the main award in Brazil).
In 2020, she was awarded the Ordre National du Mérite by the French president Emmanuel Macron. In the same year, she published the best-selling book A máquina do ódio – notas de uma repórter sobre fake news e violência digital (Companhia das Letras), about disinformation campaigns by populist leaders in Brazil, India and the US, intimidation of journalists led by the Bolsonaro administration and the erosion of freedom of the press in Brazil.
She published a series of stories about illegal use of WhatsApp mass messaging to send fake news and propaganda to manipulate public opinion during the 2018 Brazilian electoral campaign, with illegal financing from businessmen and use of foreign marketing agencies, and other disinformation campaigns. In October 2019, Whats App admitted to the irregular use of the platform in the 2018 elections. The stories led the judicial system to change electoral regulations and ban, in 2019, mass messaging by WhatsApp.
Patrícia has a degree in Journalism from the University of São Paulo and a Master's in Business and Economic Reporting from New York University, where she received a university scholarship. She has reported on refugees in Syria, Iraq, Libya, Turkey. Lebanon and Kenya, and she was responsible for the project Mundo de Muros (World of Walls) that depicts the migration crisis on four continents. She was the only Brazilian reporter to cover the Ebola epidemic in Sierra Leone in 2014 and 2015. In 2017 she published her book Lua de Mel em Kobane (Honeymoon in Kobane) with Companhia das Letras, in which she tells the story of the war against Islamic State in Syria through the eyes of a refugee couple that she met there.
Courage is Contagious Award
The Courage is Contagious Award is awarded annually at the Justice For Women Lecture to an outstanding woman leader who demonstrates a commitment to the mission of the Justice For Women Lecture Series.
Learn More
Want to learn more about the Justice For Women Lecture? Check out this short video: