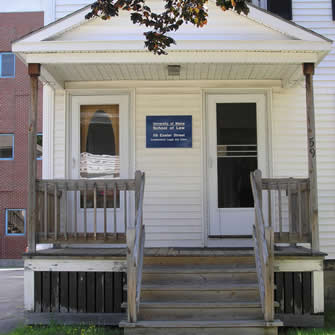 The Cumberland Legal Aid Clinic at the University of Maine School of Law was recently awarded a grant of $125,000 from the John T. Gorman Foundation, a continuation of its support of the Clinic's juvenile justice reform work. Through the Juvenile Justice Clinic (JJC) and the Maine Center for Juvenile Policy and Law (MCJPAL), the funds will continue to support efforts to implement a continuum of community-based alternatives to incarceration, to increase fairness in the juvenile justice system, and to remove barriers to success for those who have prior system involvement.  The Maine-based Foundation "advances ideas and opportunities that can improve the lives of disadvantaged people in Maine."
This latest grant enables the Clinic to appoint a Director for the Center. Jill Ward, who has managed the policy work of the project for the past four years, has been named as the Center's Director. Jill, a nationally-recognized juvenile justice reform leader, has been actively involved in guiding the reform conversation in Maine as one of three co-chairs of a statewide juvenile justice task force, as chair of Maine's Juvenile Justice Advisory Group and as a partner in the collaborative Regional Care Team initiative with the Department of Corrections and the Place Matters project at USM's Cutler Institute. As part of this new role, she is also serving as an adjunct professor, teaching Juvenile Law this fall and a policy change course in the spring.
Over the last several years, MCJPAL has worked with partners from across the state to develop resources and provide policy analysis on the juvenile records code; to coordinate and deliver expert testimony on juvenile record confidentiality and broader justice system reform; and to advocate for model policy and best practices in the juvenile justice field.  As part of this work, the Center also facilitates the juvenile justice reform practitioner work group, a core group of system stakeholders who work to identify consensus solutions to reduce inappropriate detention and confinement and to increase fairness in the juvenile justice system. Student fellows have also played an important role in the work; just this past summer students developed a summary of youth justice bills acted on during the past legislation session and a tool for working with youth in transition.
The funding also supports the work of the Juvenile Justice Clinic and its Director and founder Professor Christopher Northrop. With Foundation support, the JJC has helped clients seal their juvenile records, developed template pleadings for use by defenders, and supported training and education resources for attorneys and others engaged with system-involved youth. Through a partnership with the Department of Corrections, this grant will support the Clinic's work to provide information and assistance to youth transitioning out of Long Creek. The Clinic will work with restorative justice providers to expand diversion opportunities for older youth and young adults. JJC student attorneys will also continue to provide information and guidance to houseless youth who are system-involved or are at risk of becoming system-involved through the Street Law program at Preble Street Teen Center.
Dean Leigh I. Saufley, who championed the cause of juvenile justice reform in her former role as Maine's Chief Justice, said of the grant: "We are so grateful for the support of the John T. Gorman Foundation. This grant will enable the Clinic to continue to provide effective leadership in this work of critical importance to Maine youth, their families, and our communities. That leadership will be all the more important as the state looks to the challenges and opportunities in year ahead."
Professor Deirdre M. Smith, Clinic Managing Director, said: "We are honored to have the continued support of the John T. Gorman Foundation for the Clinic's juvenile justice work. This partnership has enabled us to provide a valuable education experience to Clinic students through both direct representation of individual youth and policy development work with an even broader impact. Appointing Jill Ward to the newly-created Director position for the Maine Center on Juvenile Policy and Law marks an important milestone for the Clinic and the Law School."