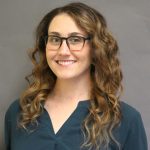 Brook Kolarich, a 2018 graduate of the University of Maine School of Law, recently published "Playing with Fire: Drone Incursions into Wildfire Suppression Operations and the Regulatory Challenges to Reducing Their Risks," in the Texas Tech Administrative Law Journal.
Brook's article was initially developed as an independent writing project with Professors Don Zillman and Jeff Thaler. She became interested in this topic after speaking with her dad while he was helping to fight Montana's Rice Ridge Fire. Her dad was frustrated by the number of drones flying over the fire, because every time a drone flew into the restricted airspace all of the aerial fire crews had to be grounded for 24 hours. (This occurred at least three times during the Rice Ridge Fire.) Members of the community did not understand why there were times when they did not see any aerial firefighting aircraft overhead, and they felt this meant that the government was not giving their full effort to fight the fire. Federal firefighting agencies and local law enforcement attempted to inform the public about the illegality of drone use near wildfires, but their efforts were hindered because it involved navigating through a web of multi-agency regulations, case law, and statutes. With her paper, Brook wanted to investigate who held the ultimate responsibility for drone regulation near wildfires.
When discussing the project, Brook had this to say: "It was the complexity of the topic that interested me. I wanted to know who held the ultimate responsibility and what that responsibility was. I was also intrigued as to why so few people had ever been held accountable for interfering with wild land firefighting operations by virtue of drone use, and believed that the convoluted enforcement mechanisms were likely to blame."
Below is a brief synopsis of her article, the full article is available on HeinOnline, WestLaw, and LexisNexis.
Drone laws and regulations in the United States are up the air, much like the technology they're trying to govern. More difficult yet is that each year more drones are impeding wild land firefighting efforts, and the laws and regulations surrounding drone use near wildfires, and the punitive measures in place to prevent such actions, are either ineffective or lacking altogether. This article addresses the current federal and state laws surrounding drone regulation and how the current legal regime does little in the way of preventing drone incursions into wildfire suppression operations. Each time a drone interferes with a wildfire suppression effort, an incredible toll is taken: aerial firefighting teams must be grounded, fire can spread quickly and without warning, there an increased risk of loss of property and natural resources, and information recognizance on fire activity is halted. The time is ripe to take a more active approach and formulation of new laws relating to drone use, and these changes need to happen before a drone incursion has an extreme, detrimental, and irreversible effect.
Brook is currently pursuing her LL.M. degree at the University of Maine School of Law.