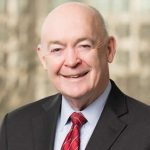 John Cruden, one of the nation's most highly regarded environmental lawyers, will present the 26th annual Judge Frank M. Coffin Lecture on Law and Public Service on November 1, 2018. He will discuss, "A Historical Perspective on Environmental Law and Implications for Today."
The Lecture Series, sponsored by the University of Maine School of Law, honors the late Judge Frank M. Coffin, longtime federal judge on the U.S. Court of Appeals for the First Circuit, former member of Congress, and renowned leader and mentor in public service.
John Cruden has spent his career at the forefront of environmental law and policy. He was the most recent Senate-confirmed Assistant Attorney General, Environment and Natural Resources Division, U.S. Department of Justice, where he personally negotiated the multi-billion dollar enforcement settlements with both BP for the Deepwater Horizon oil spill, and Volkswagen for its Clean Air Act violations. He is currently the President of the American College of Environmental Lawyers and also Principal at Beveridge & Diamond, PC. In this role, Mr. Cruden provides strategic counsel on high-stakes environmental and natural resources litigation, civil and criminal enforcement, and compliance. He has received a number of awards, including the prestigious Presidential Rank Award from three different Presidents.
The 2018 Coffin Lecture will begin with a reception at 5:30 pm, followed by the lecture at 7:00 pm on November 1 at the Abromson Community Education Center, 88 Bedford Street, Portland. This event is free and open to the public, but registration is required. Please register at www.mainelawcommunity.org/2018-coffin or at 207.780.4344.