The Constitution Day Lecture brings a distinguished speaker to the University of Maine School of Law annually to reflect on the significance of the U.S. Constitution.
2022 Constitution Day Lecture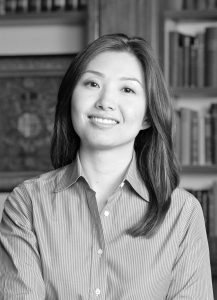 The 2022 Constitution Day Lecture will be presented on September 19 from 12:15 – 1:15 pm in the Moot Courtroom at 246 Deering Ave, Portland. Jeannie Suk Gersen will deliver the lecture. Gersen is the John H. Watson, Jr. Professor of Law at Harvard Law School where she teaches constitutional law, criminal law and procedure, family law, and the law of art, fashion, and the performing arts. She is the author of three books including "At Home in the Law," an examination of major legal developments in the U.S. domestic violence law landscape. She has been a Guggenheim Fellow and a recipient of Harvard Law School's Sacks-Freund Award for Teaching Excellence. Gersen is also a contributing writer to The New Yorker where she writes on a variety of contemporary legal issues.
Past Constitution Day Lectures
2021: Carrie Campbell Severino, Chief Counsel and Policy Director, Judicial Crisis Network & Professor Randall Kennedy, Harvard Law School "Role of the Supreme Court and the judicial selection process"
2020: Professor Pamela S. Karlan, Stanford Law, "Restoring Democracy"
2019: Interim Dean Dmitry Bam and Associate Professor Anthony Moffa, A debate on the merits of a

potential new Constitutional Convention

2018: Professor Orlando Delogu, University of Maine School of Law, "The U.S. and Maine's Constitution Both Indicate that Maine's Beaches are Public Property"
2017: Professor Joseph Singer, Harvard Law School, "Indian Nations and the Constitution: What Americans Need to Know"
2016: Judge Kermit Lipez, U.S. Court of Appeals for the First Circuit, "The First Amendment, The Police, and the Digital Age"
2015: Judge John Woodcock, U.S District Court, District of Maine, "A Collision Course With Itself: The Establishment and Free Exercise Clauses of the First Amendment"
2014: Judge Jon Levy, U.S District Court, District of Maine, "Smartphone Privacy: How Justice Louis Brandeis Foretold the Outcome of Riley v. California (2014), and Why it Matters"
2013: Professor Abbe Smith, Georgetown University Law Center, "How Can You Not Defend Those People"
2012: Professor Richard Fallon, Harvard Law School, "American Constitutionalism, Almost (But Not Quite) Version 2.0"
2011: Professor Margaret Burnham, Northeastern University School of Law, "Public Memory and the Civil Rights Era: Cold Cases, Truth Projects, Apologies and Monuments"
2010: Professor Jennifer Wriggins, University of Maine School of Law, "Constitutional Law and Tort Law: Injury, Race, and Equal Protection"
2009: Professor Melvyn Zarr, University of Maine School of Law, "The Supreme Court's Long and Perhaps Unnecessary Struggle to Find a Standard of Culpability to Regulate the Federal Exclusionary Remedy for Fourth/Fourteenth Amendment Violations"
2007: Dean Harold Koh, Yale Law School, "Repairing Our Human Rights Reputation"