The Constitution Day Lecture brings a distinguished speaker to the University of Maine School of Law annually to reflect on the significance of the U.S. Constitution. The Lecture takes place in September.
2020 Constitution Day Lecture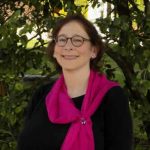 The 2020 Constitution Day Lecture was presented virtually on Thursday, September 17th by Professor Pamela S. Karlan from Stanford Law. Her lecture, titled "Restoring Democracy," can be viewed on Maine Law's YouTube channel.
About Professor Karlan
Professor Karlan has argued nine cases before the U.S. Supreme Court. Her primary scholarship involves constitutional litigation, particularly with respect to voting rights and anti-discrimination law. She has published dozens of scholarly articles and is the co-author of three leading casebooks as well as a monograph on constitutional interpretation – Keeping Faith with the Constitution (Oxford University Press). She has received numerous teaching awards.
Her public service includes clerking for U.S. Supreme Court Justice Harry Blackmun, a term on California's state Fair Political Practices Commission, and an appointment as a Deputy Assistant Attorney General in the Civil Rights Division of the U.S. Department of Justice. There, she received the Attorney General's Award for Exceptional Service (the Department's highest award for employee performance) for her work in implementing the Supreme Court's decision in United States v. Windsor and the John Marshall Award for Providing Legal Advice for her work on Title VII and gender identity. Prior to entering the academy, she served as an assistant counsel at the NAACP Legal Defense and Educational Fund, Inc.
2019, Interim Dean Dmitry Bam and Associate Professor Anthony Moffa, A debate on the merits of a

potential new Constitutional Convention

2018: Professor Orlando Delogu, University of Maine School of Law, "The U.S. and Maine's Constitution Both Indicate that Maine's Beaches are Public Property"
2017: Professor Joseph Singer, Harvard Law School, "Indian Nations and the Constitution: What Americans Need to Know"
2016: Judge Kermit Lipez, U.S. Court of Appeals for the First Circuit, "The First Amendment, The Police, and the Digital Age"
2015: Judge John Woodcock, U.S District Court, District of Maine, "A Collision Course With Itself: The Establishment and Free Exercise Clauses of the First Amendment"
2014: Judge Jon Levy, U.S District Court, District of Maine, "Smartphone Privacy: How Justice Louis Brandeis Foretold the Outcome of Riley v. California (2014), and Why it Matters"
2013: Professor Abbe Smith, Georgetown University Law Center, "How Can You Not Defend Those People"
2012: Professor Richard Fallon, Harvard Law School, "American Constitutionalism, Almost (But Not Quite) Version 2.0"
2011: Professor Margaret Burnham, Northeastern University School of Law, "Public Memory and the Civil Rights Era: Cold Cases, Truth Projects, Apologies and Monuments"
2010: Professor Jennifer Wriggins, University of Maine School of Law, "Constitutional Law and Tort Law: Injury, Race, and Equal Protection"
2009: Professor Melvyn Zarr, University of Maine School of Law, "The Supreme Court's Long and Perhaps Unnecessary Struggle to Find a Standard of Culpability to Regulate the Federal Exclusionary Remedy for Fourth/Fourteenth Amendment Violations"
2007: Dean Harold Koh, Yale Law School, "Repairing Our Human Rights Reputation"