The Judge Frank M. Coffin Lecture on Law and Public Service honors the late Judge Frank M. Coffin, longtime federal judge on the U.S. Court of Appeals for the First Circuit, former member of Congress, renowned leader and mentor in public service, and beloved friend of the University of Maine School of Law. The Lecture is presented annually by a distinguished speaker during the fall semester.
---
2021 Judge Frank M. Coffin Lecture
The 29th annual Judge Frank M. Coffin Lecture on Law and Public Service was presented virtually by Emily Bazelon, a staff writer at The New York Times Magazine and the Truman Capote Fellow for Creative Writing and Law at Yale Law School, will present "Charged: The New Movement to Transform American Prosecution and End Mass Incarceration."
A video recording of the event is available on Maine Law's YouTube channel
About Emily Bazelon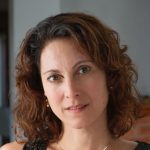 Emily Bazelon is a staff writer at the New York Times Magazine, the Truman Capote Fellow for Creative Writing and Law at Yale Law School, and a co-host of the Slate Political Gabfest, a popular weekly podcast. She is the author of two national bestsellers published by Penguin Random House: Charged, about the power of prosecutors, and Sticks and Stones, about how to prevent bullying. Charged won the 2020 Los Angeles Times Book Prize in the current interest category and the Silver Gavel Book Award from the American Bar Association.
Before joining the Times Magazine, Emily was a writer and editor for nine years at Slate. She is a graduate of Yale College and Yale Law School.
2020: Lee Gelernt,

Deputy Director, ACLU Immigrants' Rights Project

2019: Dr. Richard J. Maiman, Judge Coffin's biographer and Emeritus Professor of Political Science at the University of Southern Maine (View video of the panel discussion by the Coffin Clerks.)
2018: John Cruden, President of the American College of Environmental Lawyers and Principal at Beveridge & Diamond, PC
2017: Ambassador Rick Barton, Co-Director of the Princeton Scholars in the Nation's Service Initiative
2016: Margaret Groban, Assistant United States Attorney, District of Maine
2015: Mary Bonauto, Civil Rights Project Director, Gay & Lesbian Advocates & Defenders
2014: Kevin Gover, Director of the Smithsonian Institution's Museum of the American Indian
2013: Judge Nancy Gertner, Professor of Practice, Harvard Law School

2012: Jeffrey Lehman, NYU Shanghai & Peking University School of Transnational Law
2011: Jonathan Lash, World Resources Institute
2010: Stephen H. Oleskey, WilmerHale
2009: Kurt L. Schmoke, Dean, Howard University School of Law
2008: The Honorable Judith Kaye, Chief Judge of New York State
2007: Kenneth R. Feinberg, Special Master, Federal September 11th Victim Compensation Fund
2005: Eliot Spitzer, New York State Attorney General
2004: Justice Richard J. Goldstone, Constitutional Court of South Africa
2003: Scott Harshbarger, former President, Common Cause
2002: The Honorable Cruz Reynoso, Boocheever and Bird Chair, University of California Davis School of Law
2001: Professor Chai Feldblum, Georgetown University Law Center
2000: Alan B. Morrison, Director, Public Citizen Litigation Group
1999: Justice Ruth Bader Ginsburg, U.S. Supreme Court
1998: Warren B. Rudman, former U.S. Senator
1997: Professor Robert Reich, former U.S. Secretary of Labor
1996: Alvin J. Bronstein, Director, ACLU National Prison Project
1994: Judge Patricia M. Wald, U.S. Court of Appeals for the District of Columbia
1992: Joseph L. Rauh, Jr. (Lecture delivered posthumously by his wife, Olie Rauh, son Michael Rauh, and Justice William J. Brennan, Jr., U.S. Supreme Court)
Learn more
For more information on Judge Coffin view the Frank M. Coffin Catalog of Speeches, Addresses, and Lectures. This is a catalog of more than 140 speeches, addresses and lectures given by Judge Coffin on the following topics: the judiciary as an institution, judging, the law, the legal profession, legal education, and tributes to other judges, politicians, world leaders, professors and scholars.