The Judge Frank M. Coffin Lecture on Law and Public Service honors the late Judge Frank M. Coffin, longtime federal judge on the U.S. Court of Appeals for the First Circuit, former member of Congress, renowned leader and mentor in public service, and beloved friend of the University of Maine School of Law. The Lecture is presented annually by a distinguished speaker during the fall semester.
---
2022 Judge Frank M. Coffin Lecture
The 30th annual Judge Frank M. Coffin Lecture on Law and Public Service will be presented by Dr. Paul Andrew Mayewski on October 27 at 7 pm. His talk is titled "Climate Perspective in A Rapidly Changing World."  
About Dr. Paul Mayewski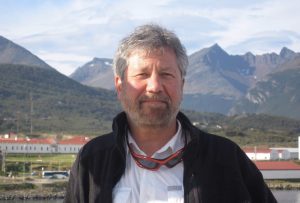 Dr. Paul Andrew Mayewski is an internationally acclaimed glaciologist, climate scientist, polar explorer and director of the multidisciplinary Climate Change Institute and University of Maine Distinguished Professor. He has thus far led more than 60 expeditions to the remotest polar and high elevation reaches of the planet and has received many prestigious national and international awards including, for example, the Inaugural Medal for Excellence in Antarctic Research from a field of 45 countries and all disciplines, the Explorers Club Lowell Thomas Medal, the highest award in the field of glaciology, the European Union Oeschger Award, an honorary PhD from Stockholm University, and fellow in many organizations – for his contributions to science including the discovery of abrupt climate change driven by atmospheric circulation, human impacts on the chemistry of the atmosphere, impacts of climate change on humans and the ecosystem and for achievements in exploration into uncharted regions of Antarctica, including thousands of kilometers of polar traversing and numerous first ascents of mountains all to gain scientific knowledge. Paul is the first person to develop and lead prominent multi-disciplinary climate research programs at the three poles (Greenland (25 US institutions), the International Trans Antarctic Expedition (21 countries) and the Himalayas/Tibetan Plateau (most recently the National Geographic and Rolex Perpetual Planet Mt. Everest Expedition – 34 international researchers). He has more than 500 scientific publications, hundreds of popular and scientific lectures worldwide, two popular books "The Ice Chronicles" and "Journey Into Climate", and has appeared hundreds of times in media such as: the New York and LA Times, NOVA, NPR, BBC, multiple CBS 60 Minutes shows and the Emmy Award Winning "Years of Living Dangerously".
2021: Emily Bazelon staff writer at the New York Times Magazine, the Truman Capote Fellow for Creative Writing and Law at Yale Law School, and a co-host of the Slate Political Gabfest.
2020: Lee Gelernt,

Deputy Director, ACLU Immigrants' Rights Project

2019: Dr. Richard J. Maiman, Judge Coffin's biographer and Emeritus Professor of Political Science at the University of Southern Maine (View video of the panel discussion by the Coffin Clerks.)
2018: John Cruden, President of the American College of Environmental Lawyers and Principal at Beveridge & Diamond, PC
2017: Ambassador Rick Barton, Co-Director of the Princeton Scholars in the Nation's Service Initiative
2016: Margaret Groban, Assistant United States Attorney, District of Maine
2015: Mary Bonauto, Civil Rights Project Director, Gay & Lesbian Advocates & Defenders
2014: Kevin Gover, Director of the Smithsonian Institution's Museum of the American Indian
2013: Judge Nancy Gertner, Professor of Practice, Harvard Law School

2012: Jeffrey Lehman, NYU Shanghai & Peking University School of Transnational Law
2011: Jonathan Lash, World Resources Institute
2010: Stephen H. Oleskey, WilmerHale
2009: Kurt L. Schmoke, Dean, Howard University School of Law
2008: The Honorable Judith Kaye, Chief Judge of New York State
2007: Kenneth R. Feinberg, Special Master, Federal September 11th Victim Compensation Fund
2005: Eliot Spitzer, New York State Attorney General
2004: Justice Richard J. Goldstone, Constitutional Court of South Africa
2003: Scott Harshbarger, former President, Common Cause
2002: The Honorable Cruz Reynoso, Boocheever and Bird Chair, University of California Davis School of Law
2001: Professor Chai Feldblum, Georgetown University Law Center
2000: Alan B. Morrison, Director, Public Citizen Litigation Group
1999: Justice Ruth Bader Ginsburg, U.S. Supreme Court
1998: Warren B. Rudman, former U.S. Senator
1997: Professor Robert Reich, former U.S. Secretary of Labor
1996: Alvin J. Bronstein, Director, ACLU National Prison Project
1994: Judge Patricia M. Wald, U.S. Court of Appeals for the District of Columbia
1992: Joseph L. Rauh, Jr. (Lecture delivered posthumously by his wife, Olie Rauh, son Michael Rauh, and Justice William J. Brennan, Jr., U.S. Supreme Court)
Learn more
For more information on Judge Coffin view the Frank M. Coffin Catalog of Speeches, Addresses, and Lectures. This is a catalog of more than 140 speeches, addresses and lectures given by Judge Coffin on the following topics: the judiciary as an institution, judging, the law, the legal profession, legal education, and tributes to other judges, politicians, world leaders, professors and scholars.