Due to the public health concerns associated with COVID-19, the University of Maine School of Law is canceling the 2020 Justice For Women Lecture on March 25th. We recognize that this is disappointing news, however, due to the strong guidance against large gatherings we have decided to err on the side of protecting the safety of our community.
---
Emtithal (Emi) Mahmoud, an award-winning Sudanese-American slam poet and author, will present the ninth annual Justice For Women (JFW) Lecture on March 25, 2020. Emi will be introduced by Safiya Khalid, the first Somali-American and youngest person ever elected to serve on Lewiston City Council. The evening lecture will also include the presentation of the 2020 Courage is Contagious Award to Blanca Santiago.
Emi Mahmoud is the founder of One Girl Walk, a movement to inspire a collective responsibility for peace. She is a former refugee and a current UNHCR Goodwill Ambassador. In 2015, she became the World Poetry Slam Champion. She was named one of the BBC's 100 Most Inspirational Women and 2016 Women of the World co-champion. In 2017, she hosted the first fully inclusive civilian peace talks across Sudan. In 2018, she completed an unprecedented 1000km journey on foot in 30 days from Darfur to Khartoum, mobilizing thousands. She studied Anthropology and Molecular, Cellular & Developmental Biology at Yale University.
Emi is the author of Sisters' Entrance, a collection of poetry that traverses genocide, diaspora, the guilt of surviving, racism and Islamophobia, the burdens of girlhood, and the solace of sisterhood. She is a student of life, spreading peace through poetry with themes of love, war, and reconciliation.
"We are excited to add Emi to the long line of distinguished JFW speakers," said Interim Dean Dmitry Bam. "Her poetry is powerful, beautiful, and inspirational, and this year's lecture promises to be an incredible and emotional event."
2020 Courage is Contagious Award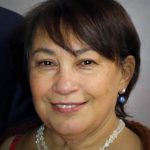 The 2020 Courage is Contagious Award will be presented to Blanca Santiago, a licensed clinical social worker who has spent three decades developing visibility, safe spaces, and resources for the Latinx and immigrant communities in Maine.
Ms. Santiago currently serves as a Family Resource Specialist in Portland Public Schools, working to support vulnerable families and individuals in direct service capacities.  She serves on the board of ILAP, Cross Cultural Communications Services, and Presente!Maine.  The latter being the newest women led Latinix organization serving the social justice, basic and aspirational needs of her beloved community.
Ms. Santiago is the fifth recipient of the Courage is Contagious Award. This award is presented annually at the Justice For Women Lecture to an outstanding woman leader who demonstrates a commitment to the mission of the Justice For Women Lecture Series.
Past recipients of the Courage is Contagious Award are:
2016: Catherine Lee, Lee International
2017: Janine L. Roberts, Westbrook Chief of Police
2018: Dr. Joyce Taylor Gibson, former Dean of the University of Southern Maine's Lewiston-Auburn College
2019: Lucky Hollander, founder of Hopeful Links
Registration
The evening will begin with a reception at 5:30 pm, followed by the lecture at 7:00 pm on Wednesday, March 25th at the Abromson Community Education Center in Portland. This event is free and open to the public, but registration is required. Please register at mainelawcommunity.org/2020jfw or by calling 207.780.4344.
Justice For Women Lecture Series
The JFW Lecture Series, presented by the University of Maine School of Law, brings speakers to Maine each year to discuss their work and strategies to promote justice for women and girls. Maine Law established the series in 2011 with leadership and support from attorney and civic leader Catherine Lee of Lee International. To learn more about the Justice For Women Lecture, watch this short video.
The Justice For Women Lecture Fund, an endowed fund, was created with the goal of sustaining the JFW Lecture Series in perpetuity. Supporters can make a gift to the lecture series using our online form.