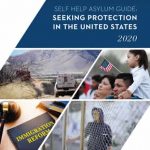 The Refugee and Human Rights Clinic (RHRC) at the University of Maine School of Law and the Immigrant Legal Advocacy Project, in collaboration with the Penn State Law in University Park Center for Immigrants' Rights Clinic and Thrive International Programs, have published a comprehensive self-help guide for asylum-seekers.
The guide provides information to assist individuals who are applying for asylum pro se, or without the assistance of an attorney. The immigration legal system is complex and navigating it on one's own behalf can be challenging. This guide seeks to aid the increasing number of families and individuals that want to apply for asylum.
"The asylum system in the U.S. is complicated and especially difficult for those without lawyers," said Ralph Humiston, student attorney in the Refugee and Human Rights Clinic.  "Most who are unable to secure lawyers ultimately lose their asylum claims and face deportation.  Given the stakes, we hope this guide will improve the odds for hundreds, if not thousands, of asylum seekers throughout the U.S."
"ILAP partnered with the RHRC on the self-help guide because we recognize that it will be a valuable addition to the free legal services available to asylum seekers in Maine," said Asylum Program Director Jennifer Bailey. "Last year, ILAP staff attorneys and Pro Bono Panel members represented 179 asylum seekers and reached hundreds more through community education workshops. But there are many more people looking for legal guidance related to asylum and this guide will help us meet more of the pressing need."
This publication fills a national need, addressing various postures of asylum-seekers, from individuals applying before the Department of Homeland Security, to individuals before an immigration court, to those in detention. It is available in English, French, and Spanish, with nearly all translations handled by Maine Law and Penn State students.
Maine Law and Penn State students partnered with the Immigrant Legal Advocacy Project and Thrive International to gain feedback on the efficacy of the guide.  Contributors from the RHRC, under the supervision of Professor Anna Welch, included:
Noel Sidorek (J.D. 2018)
Dominika Blok (J.D. 2013)
Eric Benson (J.D. 2018)
Braden Clement (J.D. 2013)
Jennifer Gillies (J.D. 2013)
Katherine Power (J.D. 2014)
Christiana Rein (J.D. 2019)
Hannah Wurgaft (J.D. 2019)
Kristin King (J.D. Candidate 2021)
Ralph Humiston (J.D. Candidate 2020)
Arianna Efstathiou (J.D. Candidate 2020)
The RHRC and ILAP produced a similar guide in 2013, but this new guide includes a number of important updates and also provides additional information for individuals throughout the U.S. at all of the various stages of their asylum cases.
The RHRC is one of four clinical programs in the Cumberland Legal Aid Clinic at the University of Maine School of Law. In the RHRC, students serve as the attorneys assisting low-income immigrants through a broad range of cases and projects. The clinic targets a critical gap in access to justice – providing direct legal representation and broader advocacy to immigrants and refugees seeking political asylum and similar protections under federal law, while training future attorneys on how to best serve the legal needs of immigrants.
The Immigrant Legal Advocacy Project is Maine's only state-wide immigration legal services organization. ILAP helps immigrants improve their legal status and advocates for more just and humane laws and policies.
---
Download "Self Help Asylum Guide: Seeking Protection in the United States" in ENGLISH, SPANISH, and FRENCH.