The University of Maine School of Law has expanded its offerings to include a new Certificate in Environmental and Oceans Law. J.D. students can now earn the Certificate through a robust course of study which is designed to fully engage them in this cutting-edge area of law.
"We are thrilled to launch the new Certificate in Environmental and Oceans Law," said Interim Dean Dmitry Bam. "The Certificate will prepare students for careers in important fields like environmental law and policy, energy law, global warming and renewable energy, oceans and coastal law, and many other related areas."
Maine Law has long been committed to these areas of law, and the new Certificate builds on the depth of Maine Law's faculty and curricular offerings in environmental and oceans law. The faculty are on the forefront of research, and have published nationally recognized scholarship around land use, renewable energy, and other sustainable development. Additionally, students have the opportunity to learn from our close collaborations with institutions in Canada, Iceland, Greenland, Norway, the Arctic Circle, and beyond.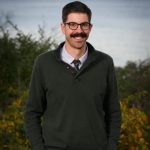 Associate Professor Anthony Moffa teaches in the environmental law curriculum at the Law School. His research and writing focus on the legal tools available to combat the policy challenge of global climate change, drawing on the fields of environmental law, administrative law, criminal law, property law, and international law. He has recently published scholarship in the Stanford Environmental Law Journal, Penn State Law Review, and Environmental Law Reporter.
"Thanks to Maine Law's relatively small size, each student has the opportunity to enjoy a truly individualized education in the law," said Associate Professor Moffa. "From publishing academic research in energy law to working with policymakers in the Gulf of Maine to literally getting their hands dirty in the wilderness at our doorstep, Maine Law students come to understand how and why our terrestrial environment and our oceans enjoy legal protection."
Outside of the classroom students have the opportunity to learn through internships and externships. Recent placements have included: the Conservation Law Foundation, the Maine Department of Environmental Protection, the Casco Baykeeper, the National Oceanic and Atmospheric Administration, and the National Resources Division of the Maine Attorney General's Office.
To earn the Certificate, J.D. students must fulfill requirements in coursework, research and writing, professional or scholarly activity, and experiential learning.
Coursework: Complete at least two of three required courses (Administrative Law, Environmental Law and Policy, and/or Oceans Law & Policy) and at least nine credits from courses related to Environmental, Land, Ocean, and/or Maritime Law.
Paper: Write a paper on a topic related to environmental or oceans law.
Professional/Scholarly Activity: Attend at least one professional or academic conference on a topic related to environmental or oceans law.
Experiential Learning: Complete an externship that relates substantially to environmental or oceans law issues.
Individuals interested in the new Certificate in Environmental and Oceans Law should contact the Office of Admissions at the University of Maine School of Law at 207.780.4341 or lawadmissions@maine.edu.