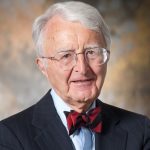 Pierce Atwood LLP recently announced the establishment of the Ralph I. Lancaster, Jr. Memorial Scholarship Fund to help provide financial assistance to exceptional incoming University of Maine School of Law students.
Ralph Lancaster passed away in January 2019 after practicing law with Pierce Atwood for nearly 60 years. He built a reputation as one of the finest and most respected trial lawyers in the country, and was a trusted counselor and advisor to clients, government officials, and colleagues in Maine and throughout the country. Firm colleagues knew him as fair, ethical, and kind, with an immense ability and intellect and an unmatched work ethic.
While Ralph's legal accomplishments are well-known and well-documented, he was also recognized as an exceptional mentor who helped shape and propel the careers and professional opportunities of so many lawyers both inside and outside of the firm.
By establishing the Ralph I. Lancaster, Jr. Memorial Scholarship Fund, Pierce Atwood hopes to continue to support the tradition of excellence in the practice of law by identifying highly qualified incoming first-year law students with a demonstrated financial need, and providing those students with financial support during each of their three years at Maine Law.
Pierce Atwood managing partner David E. Barry stated, "Ralph Lancaster was an extraordinary lawyer and leader. With this scholarship, we look to honor Ralph's legacy and commitment to Maine and excellence in the legal profession by helping to lower the barrier to the study of law for exceptional Maine Law students."
Maine Law Interim Dean Dmitry Bam added, "We are grateful to Pierce Atwood for its support of Maine Law and its commitment to improving access to legal education in Maine. Pierce Atwood's gift will help reduce the financial burden faced by Maine Law graduates and make legal education more affordable for our students."
For more information about the scholarship or applying to Maine Law, please contact the Office of Admissions at 207.780.4341.