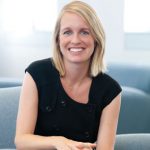 Anna Welch, the Sam L. Cohen Refugee and Human Rights Clinical Professor at the University of Maine School of Law, has been named the 2020 recipient of the Thomas P. Downing Award by the Maine Justice Foundation. The Downing Award honors individuals in the legal aid field for their dedication to improve access to civil justice for vulnerable Mainers.
Professor Anna Welch proposed, designed, and launched the Refugee and Human Rights Clinic (RHRC) at Maine Law. The RHRC is housed in the Cumberland Legal Aid Clinic at Maine Law, which is one of the oldest law school clinical programs in the country. The RHRC targets a critical gap in access to justice – providing direct legal representation and broader advocacy to immigrants and refugees seeking political asylum and similar protections under federal law, while training future attorneys on how to best serve the legal needs of immigrants. Clients include, for example, asylum applicants who have fled human rights abuses in their home countries and are seeking refuge, immigrant survivors of domestic violence, and abandoned or abused children seeking legal status in the U.S.
In addition to overseeing the RHRC, Professor Welch teaches the Immigration Law seminar, and serves as a clinical professor, supervising attorney, and as an advisor to students who are interested in immigration law and human rights. She has adapted the RHRC to address the most urgent needs of immigrants and refugees resulting from recent anti-immigration rules. She started and led (with Professor Chris Northrop) the Immigrant Youth Working Group, a cross-disciplinary coalition to address the needs of immigrant youth in Maine.
"Anna's students love her beyond words," said Professor Deirdre Smith, director of the Cumberland Legal Aid Clinic. "The Refugee and Human Rights Clinic is a life-changing experience for her students, and she inspires many of them to pursue immigration law practice. Anna is a phenomenal teacher, mentor, and colleague. She has built a program that not only serves hundreds of new Mainers in need every year but also provides future lawyers key skills and knowledge they will use throughout their careers."
The award was established by the family of Tom Downing, who died of brain cancer in 1985 at the age of 43. A graduate of Cheverus High School, Brown University, and Georgetown Law, Thomas P. Downing, Jr. was one of the first attorneys hired by Pine Tree Legal Assistance in the late 1960s. Tom then worked at the Maine Legislature, where he met and married his co-worker Diana Scully. Their son James was born in 1984. Tom's family created the Downing Fund and Award to recognize legal aid staff dedicated to access to civil justice for vulnerable Mainers.