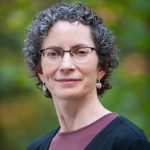 Professor Deirdre Smith, who serves as director of the Cumberland Legal Aid Clinic at the University of Maine School of Law, has been elected as a member of the American Law Institute (ALI). The ALI is the leading independent organization in the U.S. producing scholarly work to clarify, modernize, and otherwise improve the law.
Founded in 1923, ALI drafts, discusses, revises, and publishes Restatements of the Law, Model Codes, and Principles of Law. ALI members have the opportunity to influence the development of the law in both existing and emerging areas, to work with other eminent lawyers, judges, and academics, to give back to a profession to which they are deeply dedicated, and to contribute to the public good. Professor Smith joins 2,816 ALI members across the U.S.
"Deirdre has been a transformative leader of the Cumberland Legal Aid Clinic," said Interim Dean Dmitry Bam. "She is a beloved teacher in the classroom, a nationally-recognized scholar, a strong advocate for law reform, and so much more. Maine Law is extremely proud of her election to the American Law Institute and I can think of no better person to help clarify and improve our nation's laws."
Professor Smith is director of the Cumberland Legal Aid Clinic, which was established in 1970 and is one of the oldest continuously-operating law school clinical programs in the country. She teaches General Practice Clinic and Evidence, as well as mindfulness programs at Maine Law. She is highly regarded for her extensive scholarship, which has focused most recently on minor guardianship, child protection, and kinship care.