In early October, Maine Law held its inaugural Annual Day of Service. The event, which was tailored to first-year law students, harnessed all the energy of 1Ls to serve eight different nonprofits around Greater Portland. Not only were students able to assist with a specific task during this time, they were also able to become better acquainted with their new classmates and the Portland community at large.
1L Seth Main participated in the Cove Trail cleanup with Friends of Casco Bay.
"I definitely feel like I gained more of a sense of community— I am new to Portland and it was not only great to explore an area I had not been before, but also participate in an activity to improve the area," Main said. "It felt really good to give back to the community in a way that is meaningful not only to the residents of Portland, but also to the environment. Lastly, it helped me understand the importance of the roles nonprofits play in promoting community service and environmental protection."
The eight charities Maine Law 1Ls worked with this year were EqualityMaine, Friends of Casco Bay, Catholic Charities, The Locker Project, Maine Needs, Portland Trails, Prebble Street, and the Volunteer Lawyers Project.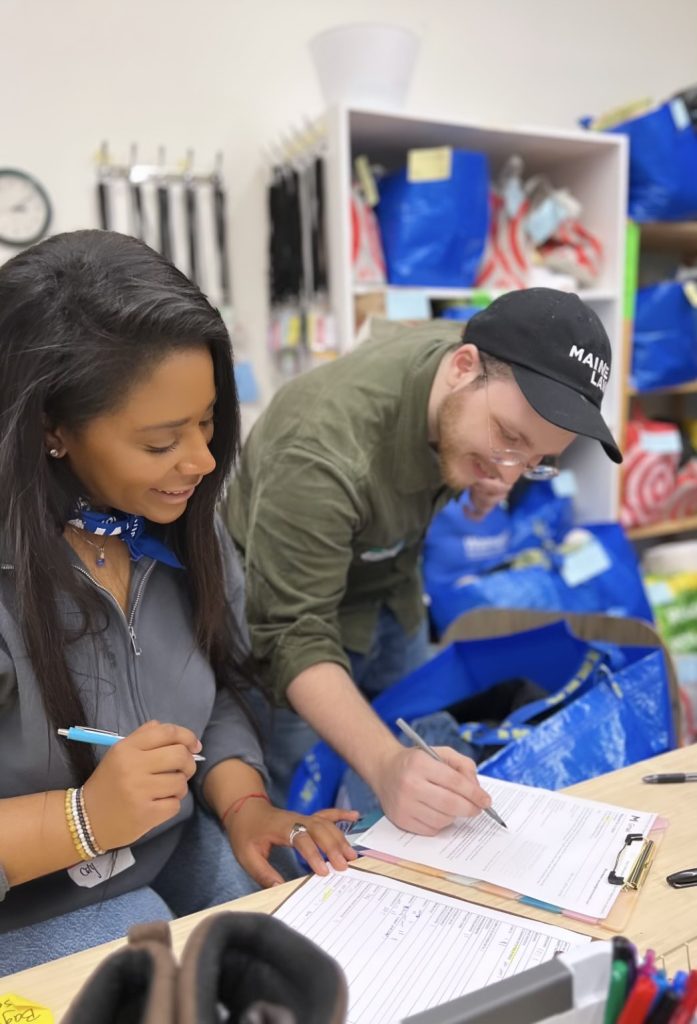 Students performed a wide array of tasks including updating databases, repairing trail infrastructure, knitting hats, packing school supply bags for area students, cleaning up litter, and much more.
Sam Dickson, the Justice Referral Coordinator with the Volunteer Lawyers Project, said the organization relies on donated time. Having eight students at her disposal to spend hours on projects that fall by the wayside was hugely helpful.
"It's been great having the concentrated help to knock out some of these things that get tabled," Dickson added. "We serve people at some of the worst times in their lives, trying to ensure that legal representation is not dependent on income. We need our volunteers, however, to do that."
Lindsey Boston, a 1L student spent the afternoon with EqualityMaine identifying barriers to obtaining legal assistance and the most common types of legal needs in the LGBTQ+ community.
"When you are a law student living and studying in the immediate Portland area, you can lose sight of the fact that Maine is expansive, and those in the LGBTQ+ community live all throughout the state, from Kittery to Fort Kent," she said. "Many LGBTQ+ people don't have access to legal services simply based on their location (which is true for a lot of Mainers regardless of their sexual orientation or gender identity). It really made me take a step back and think about the bigger picture. EqualityMaine, while based in Portland, is working towards equality throughout the entire state of Maine, and their work is integral in pursuing access to justice for all."