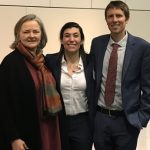 Over a hundred attorneys, judges, healthcare professionals, and legal scholars gathered in Waterville on April 26-27 for a holistic discussion on the access to justice and healthcare issues that challenge Maine's rural communities. The "Ensuring Equal Access to Justice in Maine's Rural Communities Symposium" was presented by the Maine Law Review at the University of Maine School of Law in partnership with Colby College.
Maine is over 60% rural, and its rural communities are facing a well-documented lawyer shortage. While some work is underway to address this vexing problem, the absence of legal representation remains a constant challenge to the quality of life experienced by all communities. While the national average is 40 lawyers per 10,000 residents, in Maine it's only 30 lawyers per 10,000 residents. These numbers are sharply skewed to the southern part of the state, with more than half of all lawyers living or practicing in Cumberland County.
This situation looks to worsen because of the average age of Maine's lawyers. As of 2017, approximately 1,000 of the 3,700 practicing lawyers in Maine were 60 or older. In rural parts of the state, 65% of lawyers are older than 50. As these lawyers begin to retire in the coming years, and with fewer younger practitioners replacing them, Maine's rural citizens face an increasing lack of access to justice.
"As the public and only law school in Maine, the mission to promote the rule of law throughout the state rests largely with us." said Danielle Conway, dean and professor at Maine Law. "The symposium was an excellent illustration of Maine Law's enduring commitment to access to justice for all of Maine. The students, staff, faculty, and administration are devoted to the Rural Lawyer Project and the many other impactful programs that define the work of the University of Maine School of Law."
Symposium participants took a strategic look into Maine's rural realities with two days of panel discussions and presentations. Day one (April 26) focused on access to justice, and day two (April 27) focused on access to healthcare. The keynote address was presented by Lisa Pruitt, Martin Luther King, Jr. Professor of Law at UC Davis School of Law. Professor Pruitt is a national expert on the intersection of law with rural livelihoods.
The symposium also featured the following speakers and panel discussions:
Professor Maybell Romero, Northern Illinois University Law School
Professor Nicole Huberfeld, Boston University School of Law and Boston University School of Public Health
Professor Hannah Haksgaard, University of South Dakota School of Law (PowerPoint)
Criminal Justice in Maine's Rural Communities
Ensuring Access to Justice in Maine's Rural Communities
National Panel on Access to Justice Issues (PowerPoint)
Legal and Political Issues in Rural Healthcare
To commemorate the symposium, the Maine Law Review will publish a special rural issue in June. A video recording of the symposium will be posted to the Law School's YouTube channel in the coming weeks.
This symposium was the latest of many rural-focused initiatives at Maine Law. In 2017, with funding from the Maine Justice Foundation, the Law School launched the Rural Lawyer Project, a three year program that aims to respond to the lawyer shortage by awarding paid summer fellowships to students who work in Maine's most rural communities. These Rural Law Fellowships, which pair students with rural lawyers who serve as mentors, are designed to provide students with direct exposure to rural practice and inspire them to consider pursuing careers in these communities. To learn more about the Law School's rural initiatives, please read "Tackling the Rural Law Crisis" in the 2018 edition of the Maine Law Magazine.
Gifts in support of the Rural Lawyer Project can be made through the Law School's online giving form.