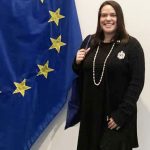 Greta Lozada, a 3L at the University of Maine School of Law, has been selected to participate in the Google Public Policy Fellowship program this summer. This highly competitive fellowship program offers students interested in Internet and technology policy the opportunity to spend the summer contributing to the public dialogue on these issues and also on exploring future academic and professional interests. Greta is the first Maine Law student to receive this honor.
As a fellow, Greta will be working at the Future of Privacy Forum (FPF). The FPF is a nonprofit organization located in Washington, D.C. that serves as a catalyst for privacy leadership and scholarship, and focuses on advancing principled data practices in support of emerging technologies.
"I believe the opportunity to be a part of this fellowship will provide me with a magnificent platform to learn and network with others in the field," Greta said. "As a Hispanic woman this gives me the chance to represent Hispanic women and also Maine Law. I am eager to bring a new outlook and diversity to the project."
As a law student, Greta's interest in privacy law was sparked while taking the Law School's foundational information privacy law course which is co-taught by Professors Trevor Hughes '95 and Peter Guffin.  Professor Hughes is CEO and president of the International Association of Privacy Professionals (IAPP), the world's largest association of privacy professionals. Professor Guffin is a leading practitioner in the areas of privacy and data security, and he chairs that specialty practice at Pierce Atwood LLP.
"Greta's accomplishment is a testament to her hard work, passion, and dedication, as well as her willingness to take advantage of opportunities to broaden her knowledge and skills," said Professor Guffin. " Maine Law offers numerous opportunities for students to develop practical skills through practicums, externships, and internships – all of which help students to understand the interdisciplinary nature of information privacy law and the need to work collaboratively with other subject matter experts."
Greta chose to analyze the European Union-United States Privacy Shield and its alternative dispute mechanism for her upper level writing project.
"The research I did for my paper substantially broadened my knowledge of information privacy law in both the EU and the U.S.," said Greta. "It is evident to me how quickly the field is growing and how crucial information privacy laws will be within a variety of areas of the legal profession, in the very near future."
During her 3L spring semester, Greta studied abroad in Paris, France where she enrolled in several classes specific to laws within the EU. In one course, she prepared a presentation on EU data protection laws and the changes implemented by the General Data Protection Regulation (GDPR).
"Taking these courses really helped me to understand and appreciate how Europeans see privacy and data protection as a fundamental human right, which is not how we tend to view it in the U.S.," Greta observed.
Greta, who came to the U.S. from Venezuela with her parents when she was seven years old, describes herself as a humanitarian.
Thanks to the sacrifices my parents made for me," adds Greta. "I was given the privilege of living in the U.S. and the opportunity to pursue happiness in a country where dreams are attainable and it is possible to assist others trying to do the same. This is exactly why I am pursuing my law degree. I intend to dedicate my life to the fight for freedom, justice, and liberty for all."