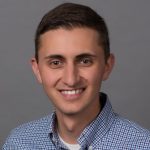 There are currently about 114,000 veterans in Maine, and Mike Adams is hoping his new Financial Guide for Maine Veterans will be a valuable resource to them all.
Mike, a 2L at the University of Maine School of Law, spent his summer as the Margaret Chase Smith Intern in the Maine Bureau of Consumer Protection. In this role, he worked diligently on this financial guide for veterans with David M. Leach, Principal Examiner with the Bureau. The guide covers resource information on health care, employment, education, benefits, access to credit, and other financial literacy topics. Mike worked closely with the Maine Bureau of Veterans' Service, the Governor's Office, and Superintendent Will Lund '80 to ensure the guide's accuracy.
A native of Harpswell, Mike joined the Maine Army National Guard after graduating from Mt. Ararat High School in Topsham, Maine. He deployed to Afghanistan when he was just nineteen years old. When he returned home, he received his undergraduate degree from the University of Southern Maine and had internships with Senator Susan Collins and the U.S. Marshal Service. He started law school at Maine Law in the fall of 2017.
"I hope to practice law here in Maine, and serve my community in some way." said Mike when discussing his post-law school plans. "I also plan to use my Maine Law degree to continue to serve the many veterans who currently call Maine home."