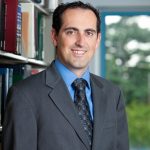 The University of Maine System has selected the associate dean of its law school to serve as interim dean.
Dmitry Bam, the University of Maine School of Law's associate dean, will begin his new position on July 1, the same day that current Dean Danielle Conway assumes her new position at Penn State's Dickinson Law.
"We are incredibly fortunate to have someone of Dmitry Bam's caliber and background to take on this interim role," says Cummings. "Dmitry possesses an in-depth knowledge and deep understanding of Maine Law's programs, students and faculty, ensuring a smooth transition and continuity for our state's only law school."
Associate Dean Bam has served on the Maine Law faculty since 2011, and received tenure in 2017. He has served as chair of the Curriculum Committee for three years and as a member of the Dean's Advisory Committee for the last two years.
"I am honored to accept this appointment as interim dean of Maine Law," said Associate Dean Bam. "My goals for this interim leadership are to maintain momentum on current projects such as the Rural Lawyer Project and the PLUS program, and also to continue advancing Maine Law's innovative program of legal education."
A nationally recognized scholar and commentator on judicial ethics, judicial selection, and constitutional interpretation, Associate Dean Bam graduated summa cum laude from Syracuse University and earned a law degree with distinction from Stanford Law School.
A national search will begin this summer to select a permanent dean of Maine Law.